Age is not only a factor in deciding what type and size of balance bike should be suitable for your kid. Other factors like balance and coordination skills are also required for riding a balance bike. The main point to remember is that all children are different from one another and develop at various rates.
Most of them will confidently start pedaling at the age of 3 or 4 whereas others might take some time to adjust themselves according to the situation. Therefore, a specific age number does not determine the right age for a balance bike.
What Age are Balance Bikes Suitable For?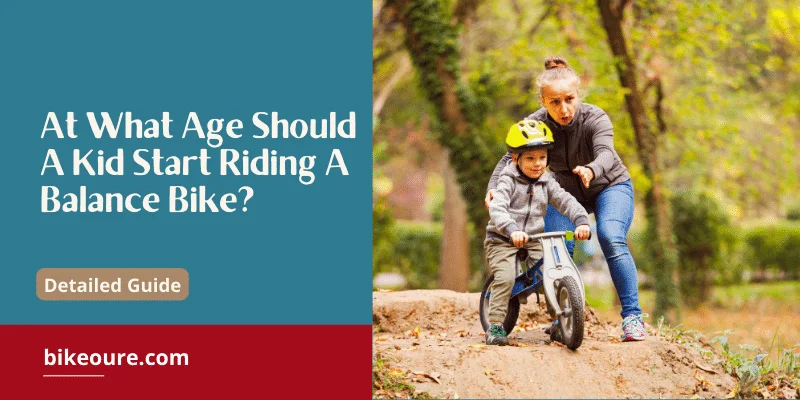 On average, the age of 2-3 years is considered to be the perfect time for kids to start riding a balance bike as at this age, they are physically developed.
Furthermore, it is also the best decision to ride your kids on a balance bike as at younger age, they learn quickly and start maintaining balance while riding which builds confidence in them. This way balance bike will improve the skill of balance and coordination in your kid that as a result will help them in their physical development. Have a look at best balance bikes for 18 month old.
The size of the balance bike should be updated according to the child's growth. If they are not fully prepared for riding a pedaled bike then continue to adjust the frame of the balance bike in order to fit the growing legs of the kids. For instance, for a 5 years old kid, choose a right balance bike for 5 year old.
However, many of these balance bikes do not come with this kind of adjustment. You will have to buy another one in a bigger size for your growing kid. Hence it is very important to choose the right size of balance bike for your growing kid that otherwise will delay their skill of bicycle riding.
Reference: Learning to Cycle: From Training Wheels to Balance Bike
6 Reasons to Choose a Balance Bike For Your Kid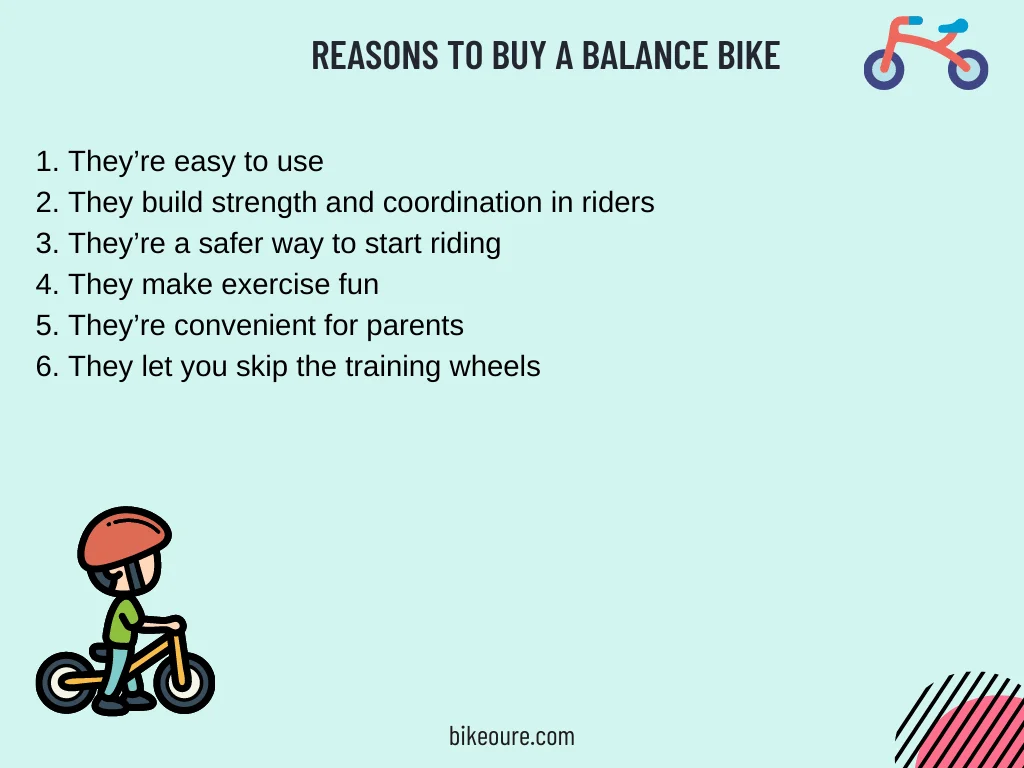 There are various reasons for buying a balance bike before transitioning to a pedal bike. The first and foremost thing is that they are easy to assemble and use. They are constructed from high-quality material that enhances their durability and performance rate.
Furthermore, balance are designed in a specific way and are available in various bright colors for attracting kids. Most of these balance bikes come with multiple levels of adjustment to adjust the bike according to the growing age of kids.
The most important factor that parents need to consider before buying a balance bike for their 2-3 years old kids is that they should be equipped with various safety features along with high stability and durability. They should also know how does a balance bike work so that they can teach their kid about riding a balance bike accurately.
Moreover, with the passage of time when kids turn 4-6 years old and have already learned how to ride a bike and maintain a balance, then they are prepared and ready to ride the pedaled bike. As all kids are different and start pedaling at various ages, the best way is to let them take their time and adopt the skill of pedaling accordingly.
You may also be interested to know the difference between balance bike and tricycle.
Frequently Asked Questions
When should I start using a balance bike?
There is no perfect age for using a balance bike. However, according to various research, 18 months to 2 years of the kid's age is suitable for a balance bike. Furthermore, introducing the balance bike at an early age will make your kids confident enough to learn how to ride a bike while maintaining balance independently.
What are the benefits of a balance bike?
A balance bike is one of the best ways of building confidence in your kids. Also, it offers them a sense of control and will help them to develop the skill of balance and coordination. It also supports other areas of development including spatial awareness, motor planning, etc.
If your kid is turning 4 years soon, read about bike size for 4 year olds guide.
Final Thoughts about Balance Bike Age
A balance bike is one of the effective ways to make your kids confident. With the help of this balance bike, the kids start to learn the basic techniques of riding a bike while maintaining proper balance. The best time to introduce this balance bike is from 18 months to 2-3 years. The sooner you introduce this bike balance to your kids, the quicker they will develop the sense of control and skill of balance and coordination.
You May Also Be Interested To Read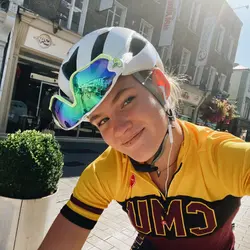 Hi, This is Catharine Pendrel, a professional cyclist and founder of Bikeoure. I have been riding bikes for more than 23 years and writing about cycling and other outdoor magazines for about 5 years. Mountain biking has been my passion ever since I first came across it a decade ago. I participated in various MTB tournaments and won numerous mountain trail races.
I started Bikeoure to share my expertise and cycling experience with cyclists all around the world to make them addicted to cycling. My cycling and solo traveling expertise help new cyclists find the best and latest gear in the market for their cycling adventures.