Most toddlers struggle while they are trying to develop their balancing skill in order to ride the bicycle safely. As the child grows, it is quite difficult to shift on a balance bike if their coordination skills aren't developed properly.
Going from balance bike to pedal bike gives a good command on their balancing skills as a child and makes it super easy for them to ride bikes as an adult. Shifting directly on an upgraded vehicle makes it difficult for kids even for an adult too.
Well, for a child, balance bike and scooter are the two best options to ride and shift on after using a toddler tricycle. Now, you must be wondering which one is better to choose for your child.
In this article, I will let you know which one is more appropriate or smooth for your child to use, either a balance bike or a scooter.
Balance Bike vs Scooter for Toddlers
Whenever it comes to choosing one out of two best options make sure that you know the features of both in order to make your selection quite easy. Children find it quite fun to ride a balance bike or scooter as they grow up.
Having good coordination skills makes it easy for toddlers to ride or shift on advanced models too. A balance bike or scooter becomes easy for your children to ride if their adjustment skills are properly developed from the beginning.
The balance bike and scooter are somehow easy vehicles for a child to ride on as it only demands proper balancing skills and confidence. Before I tell you which is easy to balance, a bike or scooter, it is important to know the features of both separately.
You may also be interested to read a comparison of balance bike vs tricycle.
Balance Bike vs Scooter Safety Comparison
Below, you will get to know what is safer to ride, a bike or scooter, and what you should choose for your child to ride first.
What is Balance Bike?
Balance bikes are quite popular among children as they are pretty smooth and easy to ride. If you read about how does a balance bike work, the best thing you will notice about a balanced bike is that it gives a comfortable and balanced riding experience to your child.
The peddling and braking system of a balance bike makes it easy for your child to use it on their first attempt. The balance bikes are lighter in weight, and easy to carry and balance.
Also, it prepares and trains your child for riding their real bike in the future. It teaches the toddler to balance and makes them learn to steer the balance bike so that they can have a great command of using and riding on it. They can easily put their feet on the balance bike without worrying about balancing the pedals.
The balance bike does not have pedals, which makes it super easy for toddlers to ride it without troubling them. The bars of the balance bike is quite adjustable and easy to control. The tires are punctured free, and smooth to give an amazing riding experience to the rider. The balance bike helps the toddler to learn and ride a bike easily without worrying much.
What is a Scooter?
A toddler can also easily, and smoothly learn ways of riding a scooter. A child can easily shift on riding a scooter right if he has developed good balancing skills. The scooter is safer to use because it is composed of three wheels, which makes it super easy for the child to keep a balance. Riding a scooter develops the child's self-confidence and balancing skills.
The best thing about riding a scooter is that it keeps your child active in certain activities and helps your child to become self-assured. The adjustable bars of the scooter make it easy for the children to keep control of it without causing any injury or harm to themselves. The scooters are available in many colors so it gives a variety of choices to the children in order to choose the desired color for themselves.
Balance Bike or Scooter: Which one to choose for toddlers?
Well, as per my suggestion, balance bikes are preferable to use for toddlers. It will provide an easy, balanced and smooth riding experience to your child. Also, balance bikes are quite straightforward to use and prevent your child from accidents.
A balance bike is more robust in construction than a scooter. Balance bikes have higher engines, super technology, high speed, and better speed than the scooter. Also, it trains your child for the real future ride as well.
Also read a detailed answer about what size bikes for 4 year olds
FAQs about Scooter and Balance Bike
Are balance bikes or scooters easier to transport?
Yes, balance bikes or scooters are easier to transport as they are light in weight, which makes them super handy.
Are balance bikes or scooters safer?
Balance bikes or scooters are both safer to use, which gives more confidence and a great riding experience to the child.
What is the best age to start a balance bike?
For starting a balance bike it is important that your child must be 2 years old.
Read a detailed guide about the right age to start riding a balance bike
Concluding Scooter Balance Bike Comparison
I hope that now you can easily make a selection between a balance bike vs a scooter. The proper guidance is quite necessary when it comes to choosing something that is related to your life safety and health. Balance bikes and scooters both are best on their own but differ slightly in their features.
Well, now as you know the differences between balance bikes and scooters so you can choose the right vehicle for your child so as to give them a great riding experience.
You May Also Be Interested To Read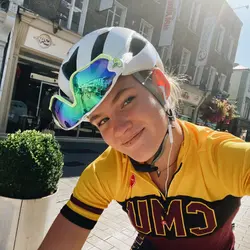 Hi, This is Catharine Pendrel, a professional cyclist and founder of Bikeoure. I have been riding bikes for more than 23 years and writing about cycling and other outdoor magazines for about 5 years. Mountain biking has been my passion ever since I first came across it a decade ago. I participated in various MTB tournaments and won numerous mountain trail races.
I started Bikeoure to share my expertise and cycling experience with cyclists all around the world to make them addicted to cycling. My cycling and solo traveling expertise help new cyclists find the best and latest gear in the market for their cycling adventures.