The most precise answer to your question, 'are Vans shoes good for mountain biking' would be: yes they are.
So, you have Vans shoes that you most probably bought for skateboarding and now want to use for mountain biking instead of buying a new pair of mountain biking shoes or you are just an amateur MTB rider who wants to buy a pair of Vans shoes. In both cases, you will find yourself asking: Are Vans good for MTB?
Vans shoes are the best for newbies as they are flexible and thus give you more control. But, for more advanced trials, that have to do with power and performance, Vans are not the right choice. So, if you are an experienced rider, you must purchase mountain bike-specific shoes.
Are Vans Shoes Good for Mountain Biking? – Detailed Answer
Usually, Vans shoes are for skateboarding as they are extremely comfortable and their soles provide excellent grip on the surface of skateboards. So, during mountain biking, they would also provide grip and prevent your feet from slipping.
For tough trails, you need stiff shoes, and avoid shoes with soft soles. The stiffer the shoes, the more power will transfer from your legs to the pedals. With softer soles, you cannot increase your pedaling power because they cushion the power transfer from your legs as they bend more. Only MTB shoes are stiff, Vans shoes are tough but not stiff.
Also, mountain biking includes all sorts of trails from easy to tough, so it impacts your feet. Therefore, riders need shoes that can save their feet from impacts and drops.
Moving on, let's look at the advantages and disadvantages of using Vans shoes for mountain biking. You can also have a look at best MTB shoes for narrow feet.
Benefits and Drawbacks of Using Vans Shoes for MTB Rides
The benefits and drawbacks of wearing Vans shoes for mountain biking are as follows:
Benefits of Vans Shoes for Mountain Biking
1. It is a fact that Vans shoes are a fashion statement as many non-skaters own them. They are comfortable and look good as well.
2. Apart from biking and skateboarding, you can also utilize them for everyday purposes.
3. Due to their lightweight, you will barely feel them when you are mountain biking.
4. The flexibility of Vans shoes will give you more control over your feet during mountain biking.
5. Its cushioned soles will save your feet and knees from impact when you jump off your bike.
You may also want to know Can I Ride a Mountain Bike on the Road
Drawbacks of Vans Shoes for MTB Riding
1. Along with all the benefits Vans shoes offer, they are expensive. You will find some of these shoes even more expensive than mountain bike shoes.
2. There is no midfoot support in the sole of Vans shoes so your feet will get tired when you go for longer rides.
3. For mountain biking, rigid shoes are better. But, due to the softer soles of Vans shoes, you won't be able to increase the transfer of power from your legs during pedaling.
4. Vans have an impressive grip on a skateboard's surface and flat pedals but not all pedal surfaces. Whereas MTB shoes have a superior grip on all pedals. Also read about waterproof MTB shoes for flat pedals.
5. Although you can take your Vans shoes on a rough and tough trail, you'll soon see them getting ripped open as they are not for rough outdoor conditions.
6. Vans shoes cannot tolerate outdoor weather conditions, especially wet, slippery, or muddy areas because your shoes will get soggy.
7. Since Vans shoes are soft and comfortable, they will not be successful in protecting your feet when you decide to ride on difficult mountain biking trails.
If you're a fat women and planning to jump into mountain biking, you should have a look at best mountain bikes for overweight female.
Watch a comparison of Vans BMX vs Classics for MTB
What are some of the brands that make MTB shoes?
Hitting tough terrain, you would need MTB shoes to make the best of your journey. Here are some of the brands you can consider for mountain biking shoes:
1. Five Ten
Most mountain bike riders consider Five Ten the best mountain bike shoe brand. Their shoes keep dirt and mud away while giving you the traction you need. The cushioning around the ankle makes longer and more difficult rides bearable.
Besides, these shoes are durable as many MTB riders said that for them the shoes lasted for three years, and that too when they did trails. Five Ten shoes can cost you $100 or more depending on the durability you want. The brand does not manufacture road cycling or BMX shoes.
2. Ride Concepts
Although Ride Concepts is a new brand, it is a competitor of Five Ten. Ride Concepts only deals in mountain bike shoes and does not manufacture any road cycling stuff. There is little difference between the prices and features of Ride Concepts and Five Ten. In addition, Ride Concepts have a great variety when it comes to colorful designs.
3. Specialized
The brand Specialized also manufactures shoes and gears for MTB riders. Plus, among this list of brands, they are the only ones that produce mountain bikes as well.
4. Giro
You can get almost all road bike shoes from Giro at relatively cheaper rates. The brand also offers mountain bike shoes but not many. If you have a tight budget, do consider their shoes.
5. Pearl Izumi
Pearl Izumi deals in road cycling gear and apparel. They have awesome mountain biking shoes as well. Despite limited options, their shoes still stand out among other mountain bike shoes due to the Vibram and Goodyear rubber soles on a few of their models. For a powerful grip, Pearl Izumi is the brand to go to.
This was all for your query, 'are Vans shoes good for mountain biking?' But, wait, do not forget to check some of the frequently asked questions I have answered down below.
Frequently Asked Questions
Is it OK to bike with vans?
It is fine to bike with Vans for your flat pedals but only when you are just starting mountain biking and taking easy trails. When you think it's time you go on difficult trails, invest in a pair of MTB footwear.
What kind of shoe is best for mountain biking?
A pair of Five Ten MTB shoes are the best shoes for mountain biking as they are comfortable and their soles stiffer. Besides, this footwear is sturdy, waterproof, and durable. Aside from this, you can consider other brands such as Pearl Izumi, Ride Concepts, Giro, etc.
Can you wear skate shoes for mountain biking?
Of course, you can. Skate shoes are the best option one can have when going mountain biking as a beginner. This is because skate shoes provide more comfort and are the best for flat pedals.
What should I wear for my first time mountain biking?
If it's your first time mountain biking, you need to be extra careful. So, make sure that you wear a mountain bike jersey, mountain bike shorts, tall socks, mountain bike gloves, mountain bike footwear, helmet, and goggles. Also, do not forget to take an easy trail instead of going for a difficult one.
Concluding Review of Vans Shoes for MTB Rides
If you are just starting, Vans shoes can prove to be the best shoes to go with. But, once you have a little experience, you need to switch to proper mountain biking shoes to make the most of your journey. For flat pedals, Vans shoes won't be problematic. But for clipless pedals, you must have MTB shoes.
You May Also Be Interested To Read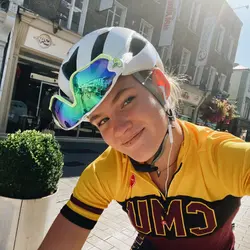 Hi, This is Catharine Pendrel, a professional cyclist and founder of Bikeoure. I have been riding bikes for more than 23 years and writing about cycling and other outdoor magazines for about 5 years. Mountain biking has been my passion ever since I first came across it a decade ago. I participated in various MTB tournaments and won numerous mountain trail races.
I started Bikeoure to share my expertise and cycling experience with cyclists all around the world to make them addicted to cycling. My cycling and solo traveling expertise help new cyclists find the best and latest gear in the market for their cycling adventures.