So you decide to carry your mountain bikes in your vehicle but are not sure what to choose between a tailgate pad and a bike rack. Read this tailgate pad vs bike rack to find out your answer.
If we look at both, the only difference is that a tailgate pad is for vehicles with tailgates such as trucks. On the other hand, you can use a bike rack for tailgate trucks as well as for vehicles with no tailgate. But that is not all, there's more to know. Keep reading!
Tailgate Pad vs Bike Rack Comparison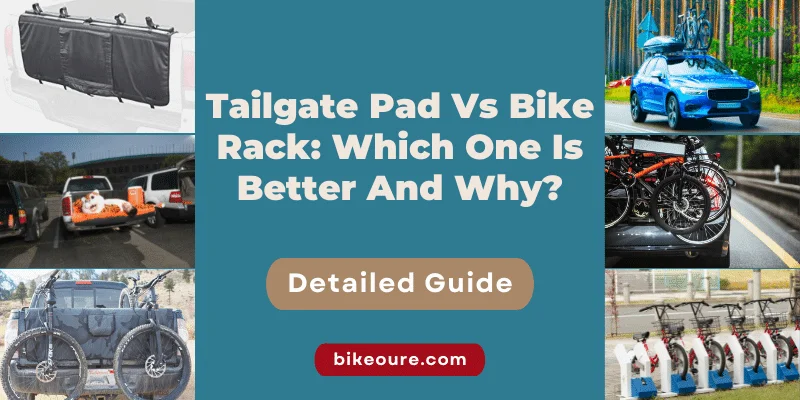 What is a Tailgate Pad?
Used on a truck, a tailgate pad assists in transporting bikes from one place to another. Besides, you can also use a tailgate pad with carbon Frame Mountain bikes because the paddings and cradles will keep the bikes secured to the pad.
Benefits of a Tailgate Pad
Using a tailgate pad for transporting bikes will give you the following benefits:
1. They are easy to use. You can install and remove them whenever needed.
2. The major advantage of tailgate pads is that they are affordable.
3. They are best at securing the bikes properly.
4. They hardly take up any space. So, you can leave them in your truck all the time.
Benefits of a Bike Rack
Bike Racks have more advantages and so more cyclists prefer them.
Bike Racks attracts many users as they are eye-catchy.
Since Bike Racks provide proper parking and positioning to the while transporting them, they are extremely bike-friendly.
Bike Racks increase parking capacity for bikes and are more convenient for bike storage.
What is the best tailgate bike pad?
The most popular and best tailgate bike pad is that of Dakine. It has padding to protect from damage and a built-in security grommet to keep you safe from thefts.
Are tailgate pads safe for bikes?
Yes, they are a safe option for transporting your bikes. Besides, at a time they can transport multiple bikes without damaging them.
How to Install Tailgate Bike Pad?
You can install a tailgate pad by following the below-mentioned steps: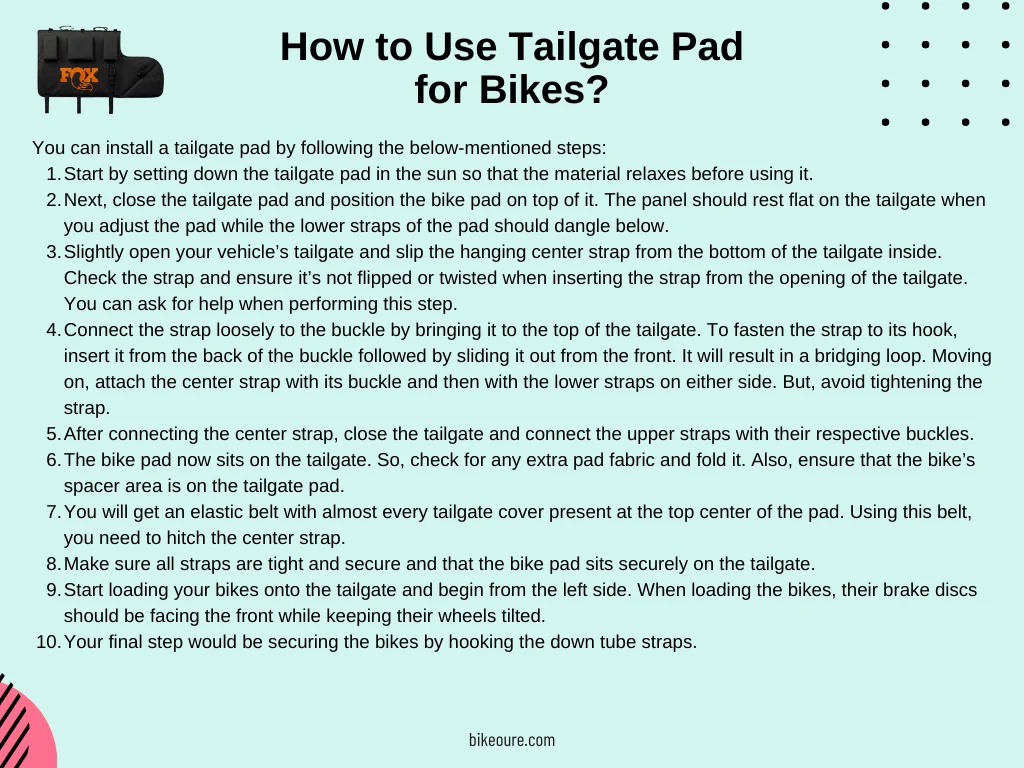 1. Start by setting down the tailgate pad in the sun so that the material relaxes before using it.
2. Next, close the tailgate pad and position the bike pad on top of it. The panel should rest flat on the tailgate when you adjust the pad while the lower straps of the pad should dangle below.
3. Slightly open your vehicle's tailgate and slip the hanging center strap from the bottom of the tailgate inside. Check the strap and ensure it's not flipped or twisted when inserting the strap from the opening of the tailgate. You can ask for help when performing this step.
4. Connect the strap loosely to the buckle by bringing it to the top of the tailgate. To fasten the strap to its hook, insert it from the back of the buckle followed by sliding it out from the front. It will result in a bridging loop.
5. Moving on, attach the center strap with its buckle and then with the lower straps on either side. But, avoid tightening the strap.
6. After connecting the center strap, close the tailgate and connect the upper straps with their respective buckles.
7. The bike pad now sits on the tailgate. So, check for any extra pad fabric and fold it. Also, ensure that the bike's spacer area is on the tailgate pad.
8. You will get an elastic belt with almost every tailgate cover present at the top center of the pad. Using this belt, you need to hitch the center strap.
9. Make sure all straps are tight and secure and that the bike pad sits securely on the tailgate.
10. Start loading your bikes onto the tailgate and begin from the left side. When loading the bikes, their brake discs should be facing the front while keeping their wheels tilted.
11. Your final step would be securing the bikes by hooking the down tube straps.
How do bike tailgate pads work?
A tailgate pad is a large rectangular pad that you can fold over, cover, and finally, attach to a truck's tailgate. As a result, a barrier between the bikes and the truck is created which prevents damage to the bikes.
Is there any tailgate pad alternative?
You can use a Bomber Strap or a bike rack as a great alternative to a tailgate pad. It is highly convenient and versatile.
Also have a look at best swing away bike racks
What is a bike rack?
A bike rack can also transport your bikes to the mountains. Using a bike rack is simple and easy. Read a detailed guide about bike rack legal requirements.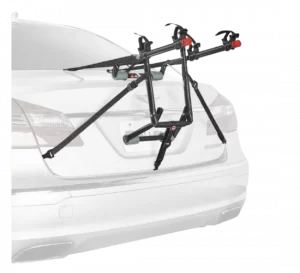 Benefits of a Bike Rack
1. Bike racks have more advantages and so most cyclists prefer them.
2. Bike racks attract many users as they are eye-catchy.
3. Since bike racks provide proper parking and positioning to the bikes while transporting them, they are extremely bike-friendly.
4. Bike racks increase parking capacity for bikes and are more convenient for bike storage.
This sums up the discussion on tailgate pad vs bike rack. Do not forget to check some more information down below. You can also read about platform vs hanging bike rack.
Frequently Asked Questions
Do bike tailgate pads work?
Yes, a tailgate pad does an excellent job of protecting your bike. But, its durable finish can make it slightly hard on your bike's paint job. You can resolve this issue by using foam pipe covers on the fork and down tube. This would protect your bikes better during longer rides.
What is the point of a tailgate pad?
A tailgate pad is for securing bikes over a truck's tailgate and protects from damage. Tailgate pads are handy for people who shuttle with their bikes because it allows the hanging of several bikes.
Can you put a road bike on a tailgate pad?
If a road bike fits on the tailgate pad, you are good to go. But, know that road bikes flop around on a tailgate. Due to a lighter front wheel and a shorter fork, you cannot get the same counterbalance effect you get with MTB. As the down tube is lower and closer to the wheel, it makes it even worse.
Do tailgate pads scratch bikes?
Although it does not happen commonly, there are cases where tailgate pads scratch the paint of trucks and bikes. This should not stop you from purchasing a tailgate pad because it rarely happens.
If you own a Toyota RAV4 then you can also be interested to read about best bike rack for Toyota RAV4
Concluding Bike Rack and Tailgate Pad Comparison
To sum up, both tailgate pads and bike racks are best to use. Both types have a slight difference, making them different from each other. Compared to a tailgate pad, a bike rack is more versatile as you can use it on any type of vehicle. So, to avoid having to purchase different bike carriers for different vehicles, invest in a bike rack and that will be sufficient.
Besides, bike racks are more popular and demanding among people. But, if you carry your bikes only on your truck, then a tailgate pad is the best option you can have.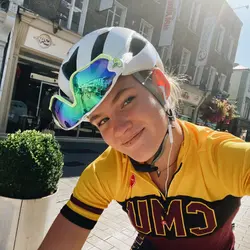 Hi, This is Catharine Pendrel, a professional cyclist and founder of Bikeoure. I have been riding bikes for more than 23 years and writing about cycling and other outdoor magazines for about 5 years. Mountain biking has been my passion ever since I first came across it a decade ago. I participated in various MTB tournaments and won numerous mountain trail races.
I started Bikeoure to share my expertise and cycling experience with cyclists all around the world to make them addicted to cycling. My cycling and solo traveling expertise help new cyclists find the best and latest gear in the market for their cycling adventures.