If you are planning about giving your 4 year old daughter or son a new bike then the question that might be bothering you right now is what size bikes for 4 year olds are the best? Because you definitely don't want to put your kid's life at risk by putting him on a bike that's too big or small for him. It will not only be difficult for him/her to ride but also super exhausting to balance.
Ultimately, your child will grow tired of riding a bike that is so hard to control. Or worse, he could take a fall and sprain an ankle or break a limb. You are not ready to take such risk, are you? Of course not, so what's the solution?
Here's some good news for you. I can tell you everything you need to know about getting the right size bike for your kid but there are certain things that you have to keep in mind. You may also refer to the kids bike size chart issued by the manufacturers but they are not always accurate. The charts are based on rough estimates of the average height of individuals in a certain age group.
However, your child may be taller or shorter, or heavier than his age standards and thus, may need a smaller or larger bike than that suggested by the chart. So, here's a quick guide to help you choose the right bike for 4 year old!
What Size Bikes For 4 Year Old Kids? – Detailed Answer
It is imperative that you get your child a bike that is most suitable for his age, otherwise, you know the risk you will be taking. And I have already explained how sizing charts are not very accurate helpers because your child may has a different physique from the individuals of his age group. If your kid is currently riding a balance bike, read a guide on how to transition from balance bike to pedal bike.
So, instead of making him suffer for things that were not his choice and are definitely not his mistake, I have developed a few steps that will help you ensure that you are getting a perfect size bike for your kid. Just make sure that you follow through with all these steps before choosing a bike for your 4 years old kid.
You can also read a detailed comparison of balance bike vs tricycle
3 Steps to Choose Right Bike Size for 4 Years Old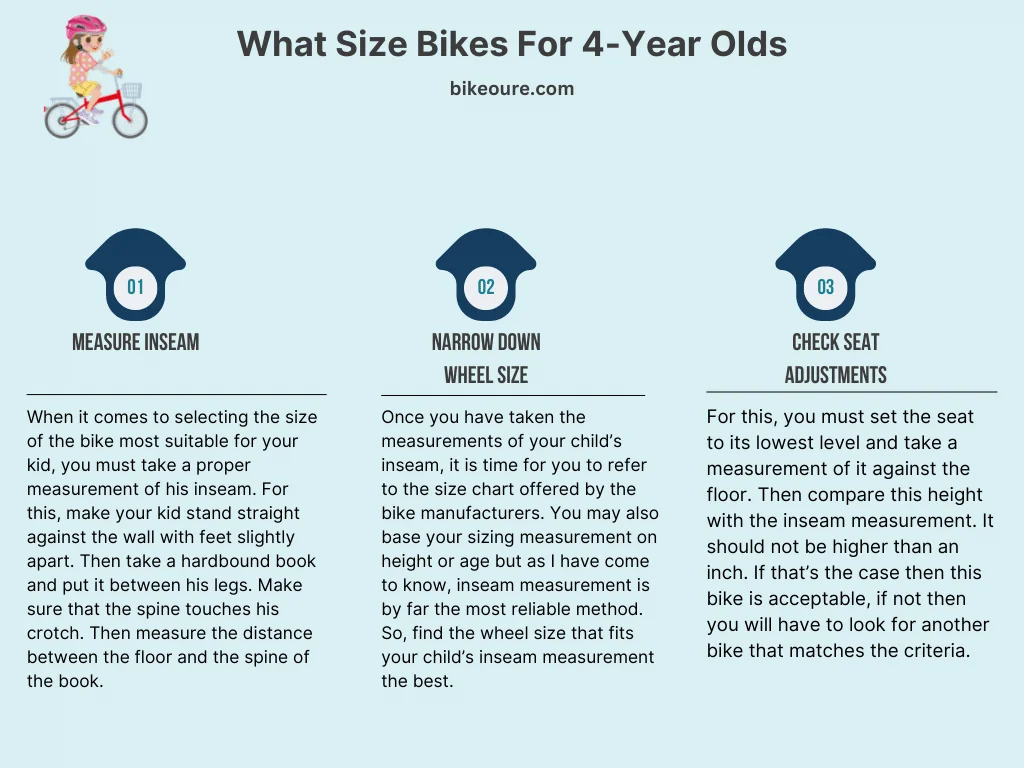 Step# 01. Measure Your Kid's Inseam
When it comes to selecting the size of the bike most suitable for your kid, you must take a proper measurement of his inseam. For this, make your kid stand straight against the wall with feet slightly apart.
Then take a hardbound book and put it between his legs. Make sure that the spine touches his crotch. Then measure the distance between the floor and the spine of the book. And that's it, you have successfully measured your kid's inseam.
Step# 02. Narrow Down Wheel Size
Once you have taken the measurements of your child's inseam, it is time for you to refer to the size chart offered by the bike manufacturers. You may also base your sizing measurement on height or age but as I have come to know, inseam measurement is by far the most reliable method.
So, find the wheel size that fits your child's inseam measurement the best. If it falls between two wheel sizes, I would recommend you to go for the bigger one because it leaves a lot of room for growth and your kid will not have trouble handling the wheel as long as it fits his inseam.
Step# 03. Check Seat Adjustments
You must check out the seat adjustments and measure them against your child's inseam. For this, you must set the seat to its lowest level and take a measurement of it against the floor.
Then compare this height with the inseam measurement. It should not be higher than an inch. If that's the case then this bike is acceptable, if not then you will have to look for another bike that matches the criteria.
You can also have a look at best balance bikes for 5 year old
FAQs about 4 Year Old Bike Size
What size bike is best for a 4 year old?
Ideally, a bike with a wheel size of twelve inches or sixteen inches would be the most suitable for a four-year-old. However, if you want to take a better measurement, you must take his inseam in the count. This will give you a perfect idea of what size of bike would be best for your kid. And while you are at it, don't forget to take the seat measurements as well because that is also what really matters in sizing the bike.
What type of bike does a 4 year old need?
Your four year old needs a perfectly sized bike that will be easier for him to ride and carry along. So, for this, you have to take proper measurements of his inseam, seat height, pedal height, and so on. But most importantly, you will have to decide on the wheel size., Now, if your kid has been on the tricycle then you should get a bike with a twelve-inch wheel. However, if your child has been riding a bike of that wheel size, then it is time for him to upgrade to a bigger wheel size. So, a fourteen-inch or a sixteen-inch wheel size would be most suitable.
You may also be interested a detailed comparison of balance bike and scooter
Final Thoughts on 4 Year Size Size Bike
So, this was all from my side. I hope you got a pretty fair idea of all the measurements you must take before you settle on a bike. Make sure that the bike you purchase fits all the measurements or is close to the measurements you took. Otherwise, it will be very hard for your kid to ride that bike without feeling exhausted let alone getting hurt by taking a fall.
Now, you don't want to take such a risk with your four year old, would you? And besides, getting a perfectly sized bike would cost you the same as getting a bike that is too big or too small for your child.
You May Also Be Interested To Read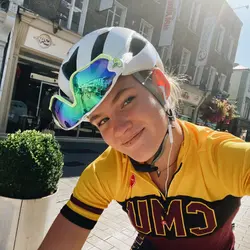 Hi, This is Catharine Pendrel, a professional cyclist and founder of Bikeoure. I have been riding bikes for more than 23 years and writing about cycling and other outdoor magazines for about 5 years. Mountain biking has been my passion ever since I first came across it a decade ago. I participated in various MTB tournaments and won numerous mountain trail races.
I started Bikeoure to share my expertise and cycling experience with cyclists all around the world to make them addicted to cycling. My cycling and solo traveling expertise help new cyclists find the best and latest gear in the market for their cycling adventures.