You are surfing through different biking options that would help you get started with your biking journey or planning on replacing your old bike with a new one. But, you have a tight budget. What next? You come across Polygon Bikes and decide to try them as they seem promising and affordable. But wait, you pause for a moment and wonder; are Polygon Bikes good? Why is there so much hype about them?
In today's article, we will explore the world of Polygon bikes and delve into their quality, manufacturing process, and overall performance. Whether you are an avid cyclist or a beginner looking to invest in a new road or mountain bike, this article aims to provide you with all the important information to make an informed decision while choosing Polygon Bike.
Are Polygon Bikes Good?
Polygon is a renowned name in the bicycle industry, known for producing high quality bikes for various types of rides, including mountain biking, road cycling, and urban commuting. With a commitment to innovation, performance, and affordability, Polygon has gained a solid reputation among cycling enthusiasts around the world.
If you're a beginner, undoubtedly, Polygon bikes are best to get your hands on. Their bikes provide excellent balance throughout their components. Besides, these bikes are lightweight yet well-built. So, the cyclist can attain maximum speed without compromising on comfort. Polygon bikes are a perfect combination of high quality material, components and low costs.
So, let's look at the characteristics of Polygon bikes that make them a popular choice among riders. But, before that, it is essential to know about the brief history of Polygon Bikes. You can also read a detailed history of mountain bikes.
History of Polygon Bikes
Polygon bikes have a rich history that spans over several decades. The brand originated in Indonesia in 1989, under the umbrella of Polygon Group, which is involved in various industries, including automotive, real estate, and bicycles. Since its inception, Polygon has focused on developing cutting-edge bikes that cater to different riding styles and skill levels.
Where Are Polygon Bikes Made?
With its headquarters located in Sidoarjo, Indonesia, the Polygon brand has been manufacturing a wide variety of bikes for more than 30 years. During its start in 1989, the major focus of Polygon Bikes was to sell bikes in Southeast Asia only. Later, the brand became a global manufacturer and supplier of all kinds of bikes.
You might have heard of the term 'polygon' in your geometry books which means 'more than one side'. This name resonates perfectly with the brand as it deals in products ranging from both on-road and off-road bikes to comfortable apparel for your journey.
What Makes Polygon Bikes Unique?
With the purchase of a Polygon bike comes the following benefits:
1. ADG Technology
ADG technology is an innovation in the Polygon bikes, meaning that the geometry of bikes now has slight changes. These tiny changes in the geometry have a major effect on the overall performance of the bikes. With the help of the flip-chip system, riders can now get greater performance from their Polygon bikes by making little adjustments.
2. ACX Carbon
ACX Carbon is the lightest material ever used in building bike frames. The frame of the Polygon bikes also contains ACX Carbon fiber. This makes their bikes lightweight yet sturdy enough to last in the long run.
3. A Floating Suspension
When the suspension is split between the suspension behavior and the rear wheel movement, you call it a floating suspension. In simpler terms, floating suspension is when the bike's suspension can function independently to a great extent.
This results in a more sensitive ride irrespective of the roughness of the terrain. Also, the same suspension can serve its purpose on technical landscapes.
For elbow protection during mountain bike rides, it is recommended to wear MTB elbow pads.
Is Polygon a Good Brand?
It is a fact that Polygon has been giving tough competition to other bike brands ever since its existence. Their prices as compared to all the top bike manufacturing brands are low. One might think that such low costs would make these bikes last sooner. Whereas that's not the matter. If you use the bike only for the purpose it is built, it is bound to last much longer. Also, the more you invest in the components, the more likely you are going to get a bike that lasts a lifetime.
Otherwise, it is rare to find problems with Polygon bikes and if there is any issue, you can solve it easily. Plus, the best part about the brand is that it appreciates constructive criticism from its customers and brings forth improvements in its products all the time.
Make sure to wear hot weather MTB gloves for a better grip.
Why Are Polygon Bikes So Cheap?
Polygon Bikes keep its costs low mainly due to two reasons:
Firstly, there is no third party involved in selling Polygon bikes. Consumers from around the world purchase it directly from the brand resulting in the reduction of the prices up to 20-40%.
Secondly, bike manufacturing takes place entirely within the country, reducing costs.
What Kind of Bikes Does Polygon Manufacture?
Polygon not only deals in producing racing or road bikes but also bikes for your youngsters so they are not left out. The brand deals in the following bikes:
Their mountain bikes include women's, XC, trail, leisure, enduro, and downhill.
Their urban bikes comprise utility, tandem, hybrid, city, and folding bikes.
Their road bikes include flat bar, endurance, and cyclocross bikes.
They also produce pump trucks, BMX, and dirt jump bikes.
For downhill mountain biking, it is recommended to wear safety gear including downhill mountain bike helmet.
Are Polygon Mountain Bikes Good?
When it comes to Polygon mountain bikes, you'll meet with a diversity fulfilling the needs of all types of riders. Some of the famous ones are as follows:
Bromo
Bromo is similar to both Enduro and trail bikes and gives you the same experience. It makes climbing up a hill joyous. You can read about best enduro bike helmets.
Trid
Trid is for dirt jumps and some famous riders rated it as the best bike ever. The bike gives unmatched performance.
Premier
This bike makes your ride smooth and you can take it along for biking during the weekend.
Are Polygon Road Bikes Good?
If we specifically look at the road bikes from Polygon, you'll notice that they are also relatively economical while having all the features of expensive road bikes. Road bikers prefer them as they weigh less but are greatly stiff. Some of their popular road bikes are:
Helios A and AX Series
The A series has 7 race models and the AX series has 8 endurance bikes. The A series is for traveling faster. On the other hand, the AX series is specific for road races.
Strattos Series
In this series, you'll see a performance bike (Polygon Strattos S5 Disc Brakes) and an all-rounder bike (Polygon Strattos S5). Apart from these, you can also get two other all-rounder bikes (S2 and S3).
Read a detailed comparison of post mount vs flat mount disc brakes
FAQs about Polygon Bikes
Is Polygon a good cycle brand?
You can determine whether Polygon is a good cycle brand or not by looking at the reviews given by the world-class athletes who were able to win races with it which shows that the brand is reliable. In addition, Polygon Bikes sell nearly one million bikes each year, reflecting their reliability.
Is Polygon better than Trek?
It depends on the rider. Some prefer Trek over Polygon and vice versa. But keep a few things in mind, Trek offers a lifetime warranty for their frame but is extremely expensive. On the contrary, Polygon gives you excellent quality bikes while keeping the budget low.
Where do Polygon bikes come from?
Polygon is a brand established by PT Insera Sena in Indonesia. The manufacturing process of Polygon bikes takes place throughout the country without taking help from any foreign body.
Are Marin and Polygon bikes the same?
No, they are not. With the formation of Zentro Porindis GmbH, both Polygon and Marin now have a single European sales and distribution roof. However, both Marin and Polygon have a common suspension designer, resulting in similar bike designs.
Concluding Polygon Bikes Guide
By now, you know the answer to your question, 'Are Polygon Bikes good?' better. So, if you are looking to kickstart your biking journey, consider Polygon Bikes your best buddy as these bikes are the perfect choice for riders searching for great quality at an affordable price. To top it all off, if you want to prolong the life of your Polygon bike, pay special attention to its maintenance.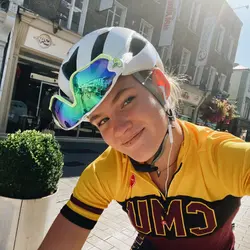 Hi, This is Catharine Pendrel, a professional cyclist and founder of Bikeoure. I have been riding bikes for more than 23 years and writing about cycling and other outdoor magazines for about 5 years. Mountain biking has been my passion ever since I first came across it a decade ago. I participated in various MTB tournaments and won numerous mountain trail races.
I started Bikeoure to share my expertise and cycling experience with cyclists all around the world to make them addicted to cycling. My cycling and solo traveling expertise help new cyclists find the best and latest gear in the market for their cycling adventures.