You just bought a bike or already have one and want to consider the two options in disc brakes, post mount or flat mount. The problem is, you are not sure which disc brake you should go with and why? The confusion of choosing between a post mount and a flat mount disc brake is common but don't worry, I can help with that.
Bicycle technology is a fascinating world with numerous options and considerations. One such consideration is the brake mount choice: Flat Mount or Post Mount. In this article, I will uncover the similarities, differences, and suitable applications for these two types of brake mounts.
Flat Mount vs Post Mount Disc Brakes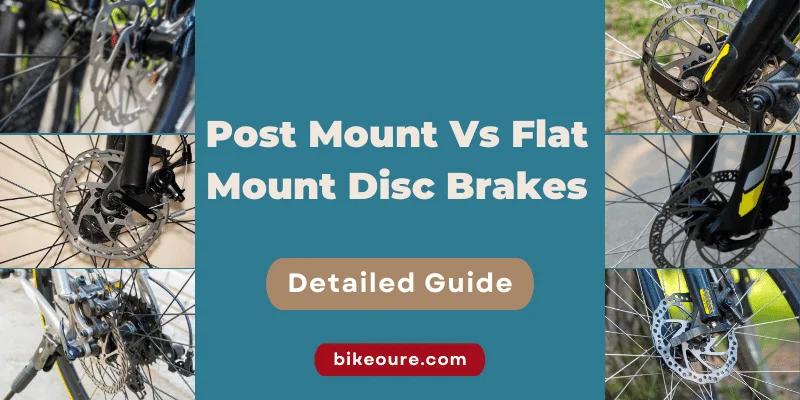 So, to clear both types of disc brake mounts for you, I will discuss about post mount vs flat mount disc brakes in detail. But, before I start with the comparison, I want to ask, are you familiar with the term brake mounts, disc brakes, and its types? No? You can read about it down below!
What is Brake Mount?
Bike brake mounts are specific points on the bike frame and fork where brakes are installed. The type of mount dictates the type of brake that can be installed on the bike.
What are Disc Brakes?
Hydraulic disc brakes have a circular metal disc that is mounted on the hub of the wheel. The metal disc rotates through a caliper containing the brake pads. When the brake lever is squeezed, it applies the pads to the rotor. As a result, the bike stops or slow down.
These disc brakes come in different sizes. A large disc helps in slowing down faster as compared to a small disc. Disc brakes improve the stopping power of a bike which is not possible with a rim brake. That's the reason they are gaining more popularity over the years.
Bikes have different types of disc brake mounts to install the brakes. These different types of disc brake mounting systems are mentioned below:
1. Post mount
2. Flat mount
3. International Standard (IS)
As you know, the basic purpose of a brake is to slow down or stop the bike. So, what makes these three types of disc brake mounts different from each other? The major difference between these types of disc brake mounts is their design and the placement of the bolts. Below, I will discuss everything about post mount vs flat mount. However, you can also read about IS mount disc brake.
What is Post Mount?
Post mount brakes are commonly used on mountain bikes. Most modern mountain bike frames have post mounts. The two bolts are 74mm apart from each other. Unlike the IS disc brakes mount, these are directly screwed into the frame.
Post Mounts are characterized by two posts extending from the frame or fork where the brake caliper is mounted. The brake pads align directly with the brake rotor, facilitating easy alignment and adjustment.
In the case of post mount calipers, the bolts thread through the calipers first and then inside the fork. Besides, there is no need for an adapter to install post mount brake calipers. You would only require an adapter when the rotors are larger in size than the size of the post mount.
The reason for their wide usage is that they can be easily installed and adjustable. The first gravel bikes also had post mount brakes. Post mount brakes are heavy, making them perfect for mountain bikes but not suitable for road bikes. These are comparatively simple, inexpensive, and more efficient.
What is Flat Mount?
Flat Mount is a relatively new type of disc brake mount standard, primarily used in road bikes. Shimano was the first one who introduced flat disc brake mounts. A flat mount had the same basic caliper and the inner working as a post mount. The bolts of a flat mount caliper first go through the frame and then inside the calipers.
Flat Mounts are characterized by a sleek and compact design. The mounting points are flat against the frame or fork, providing a clean and streamlined look that aligns with the aesthetics of modern road bikes. The flat mount is best for road bikes due to their low weight but now even gravel bikes, cross country bikes and trail bikes also have flat mounts.
You may also be interested to read a comparison of Hope Tech 4 e4 vs v4
Post Mount vs Flat Mount – Detailed Comparison
Now that I have explained each type of mount, let's dive into their detailed comparison of flat mount and post mount based on installation, performance, and aesthetics.
Installation of Post Mount vs Flat Mount
Post Mounts have been praised for their simplicity in installation. They offer a fair amount of adjustment, making aligning the brake caliper with the rotor relatively straightforward. On the other hand, flat mounts are a bit more complex to install due to their flush design. They require a specific mounting bracket and precise alignment.
Performance of Flat Mount vs Post Mount
In terms of performance, post mounts have proven their effectiveness especially in mountain biking. They handle heat well and offer reliable braking power. Flat mounts also offer similar braking power but are primarily designed for lighter, less aggressive riding styles like road biking.
Aesthetics of Flat Mount vs Post Mount
Flat Mounts sleek and minimal design makes them visually pleasing and aligns well with the clean lines of modern road bikes. While post mounts might not win any awards for their looks, they are functional but aren't appealing. Also read a comparison of thru axle vs quick release.
Watch a detailed video comparison of Flat Mount vs Post Mount
Down below are some more questions answered for you that you wouldn't want to miss out on. Also read a detailed guide on how often to bleed MTB brakes!
FAQs about Flat Mount and Post Mount Brakes
What is the difference between flat mount and post mount disc brakes?
The major difference between a flat mount and post mount disc brakes is the screwing of bolts. Apart from this, a bike with a flat mount disc brake is lighter as compared to a bike with a post mount disc brake.
Can I convert my post mount to a flat mount?
Yes, it is possible to convert post mount to a flat mount, however, it requires a specific adapter and some technical know-how.
How to use flat mount brakes on the post mount frame?
You can use flat mount brakes on a post mount frame or fork with the help of a post to flat mount brake adapter. This particularly helps cyclists who wish to use their mountain bike frames for road riding.
Can both types of mounts work with any disc brake?
No, each type of mount requires a specific disc brake design, so it's important to ensure compatibility before purchasing.
Does the type of mount affect the bike's performance?
The type of mount does not directly affect the bike's performance, but it does dictate the type of brake you can use, which can influence braking efficiency and control of a bike.
What is the difference between IS mount and post mount?
If we talk about post mount vs IS mount disc brakes, IS (International Standard) mount is the one where the two bolts are 51mm apart and the placement of the bolts is perpendicular to the wheel. On the other hand, the two bolts of a post mount are 74mm apart. These are directly screwed into the fork and are parallel to the wheel.
What is a flat mount brake caliper?
Introduced by Shimano in 2015, a flat mount caliper is relatively sleeker and simpler than a post mount caliper. This is more common for road bikes. If you observe a flat-mount caliper, you'll see that it sits directly on the fork blade or the chainstay. As a result, it tends to take less space as compared to a common post-mount caliper.
Concluding Flat Mount vs Post Mount Disc Brakes
In conclusion, there are no significant differences between a post mount disc brake and a flat mount disc brake. The choice between post mount and flat mount for bike disc brakes ultimately comes down to rider's personal preference and specific bike requirements.
However, keep in mind that post mount offers a proven and reliable brake mounting standard that is compatible with a wide range of bikes. It is a versatile option suitable for various disciplines, from mountain biking to road cycling.
On the other hand, flat mount provides a sleek and integrated design that enhances the aesthetics and aerodynamics of road and gravel bikes. It offers a more modern and streamlined look but compatibility considerations and potential compromises should be taken into account. Whichever option is chosen, it is important to ensure compatibility with the bike frame and fork and stay informed about any emerging standards in the ever-evolving cycling industry.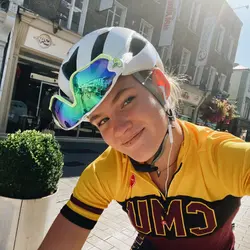 Hi, This is Catharine Pendrel, a professional cyclist and founder of Bikeoure. I have been riding bikes for more than 23 years and writing about cycling and other outdoor magazines for about 5 years. Mountain biking has been my passion ever since I first came across it a decade ago. I participated in various MTB tournaments and won numerous mountain trail races.
I started Bikeoure to share my expertise and cycling experience with cyclists all around the world to make them addicted to cycling. My cycling and solo traveling expertise help new cyclists find the best and latest gear in the market for their cycling adventures.