While you may think that the disc brake mounts on your bike are similar to all other brake mounts out there. You might be wrong. So, read me out if you want to know about the types of disc brake mounts because this would help you in the future when you plan to change your bike or just the disc brakes.
This article will take you through the types of bike disc brake mounts and you'll also know which type of disc brake mount is best for your bike. Without further ado, let's begin!
3 Types of Disc Brake Mounts
Understanding the different types of disc brake mounts is essential for cyclists and bike enthusiasts to ensure proper installation and optimal brake performance. Below, we will explore the three different types of disc brake mounts, shedding light on their features, benefits, and the types of bike frames or forks they are compatible with.
Post Disc Brake Mount
In the post disc brake mount, the bolt holes are parallel to the frame while keeping the bolts 74mm apart. They are directly screwed into the frame. To install brake calipers, you do not need an adapter. The need for an adapter is only when the rotors are larger in size than the size of the post mount. Post mounts are simple, cheap, and highly efficient.
Post mounts are more common for mountain bikes due to their increased weight. Most modern frames and forks also use post disc brake mounts. Post brake mounts were also present on the first gravel bikes. The reason for the wide usage of post mount is that they are easy to install and adjust.
Flat Disc Brake Mount
Shimano revolutionized the cycling industry in 2015 by introducing the innovative flat brake mount, which has since exceeded all expectations in terms of popularity.
Flat mount distinguishes itself from the traditional post brake mount by positioning the caliper directly onto the bike chainstay, resulting in a significant space-saving advantage that post mount calipers cannot achieve.
Nowadays, flat mount disc brakes have become the preferred choice for most road bikes, primarily because of their lighter weight and more streamlined aesthetics.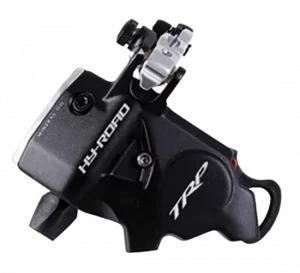 However, their usage has expanded beyond road bikes, with cross country (XC) mountain bikes also adopting this brake mount style. It's worth noting that flat mount disc brakes are generally pricier compared to other types of disc brake mounts.
You can also read a comparison of Quick Release vs Thru Axle
IS (International Standard) Mount Brakes
IS Brake Mounts were common in the early 2000s and now fork manufacturers have stopped producing them as they prefer post mounts over IS brake mounts. However, it is also true that the rear of some bike frames still use IS mounts. IS mounts have complex structures and are expensive.
Their bolts are 51mm apart and the placement of these bolts is perpendicular to the bike's frame. To install a modern hydro disc brake on an IS mount, you'll be needing an IS to Post mount adapter. However, there are some exceptions in IS mounts that do not take adapters such as Hope, Shimano, and Magura.
You might also wonder how you can mount disc brakes. So, let's discuss that. Also read a detailed answer on how often should you bleed MTB brakes.
Watch a Video Guide about Types of Disc Brake Mounts
How to Mount Disc Brakes?
If you have a rim brake and wish to replace it with a mount disc brake, start by removing the brakes already present along with the handlebar levers. You can do it with a screwdriver and Allen keys.
Start with the front wheel and remove it because it would be difficult for you to install the disc brakes if the front wheel is present. Right after you install the front disc brakes, you can put the front wheel again.
Before installing the disc brake, make sure you wear gloves so as not to damage it. Also, with the help of isopropyl alcohol on a clean cloth, clean the disc rotor.
If your wheel has a six-bolt system, snug down all the bolts into the holes on the wheel hub for attaching the disc. Do not apply more force when turning as it may damage the wheel.
Next, move the rotor clockwise and tighten the bolts manually by making a star-shaped pattern. This pattern would prevent the disc from bending. You can use a torque wrench for this.
You've successfully adjusted the rotor on the wheel hub. Now, take some isopropyl alcohol or a brake cleaner on a clean towel and clean the disc with it.
Moving further, re-secure the front wheel to the fork. You can select the front brake calipers now and remove caliper spacers (that is a red plastic piece) from them. Keep in mind that it is best to install the spacers right after you remove the rotor from the calipers.
Slide the caliper over the disc brake for aligning the attachment points properly. During the process, do not tighten the two bolts and keep them loose. This would help you in moving them with your hands when you adjust the brakes.
Attach the front brakes with the left side of the handlebar plus the brake lever with the handlebars while loosely aligning the brake lines.
After this, give a light squeeze to the brake lever followed by spinning about 2-4 times. This ensures the proper alignment of the caliper to the disc brake.
Zip-ties would help in holding the brake lines to the fork and frame according to your needs. With a cutter, you can trim the extra parts.
Your final step would be adjusting the position of the brake lever and tightening it.
The process for the rear wheel is also the same. After you are done, check for rattles by lifting your bike for 4-6 inches and then dropping it on the ground. You can then take your bike for a ride to confirm the proper working of the brakes.
To help you differentiate among the types of disc brake mounts even better, down below you can find some more questions answered. You may also to know: What brake fluid do I need for MTB?
FAQs about Disc Brake Mounts
What is the difference between flat mount and post mount?
While the function of flat mount and post mount is the same, both have differences when it comes to the screwing of bolts. Also, a bike with a flat mount is lighter yet expensive, and vice versa.
What is a flat mount disc brake?
A flat mount disc brake is specific for road bikes as it is compact and lightweight. The caliper of a flat mount sits directly on the chainstay and thus saves space which is not possible with a post-mount caliper.
What are the two types of disc brakes?
The two types of disc brakes are as follows:
Opposed piston disc brake
Floating disc brake
If both sides of the disc rotor have pistons, it is an opposed-piston disc brake. On the other hand, when the disc rotor has a piston on only one side, you call it a floating disc brake or the sliding pin disc brake.
What are direct mount disc brakes?
Unlike the traditional rim brakes, direct mount disc brakes mount to the bike's frame or fork between two mounting points instead of one. This makes them stiff and less prone to flex.
You can also read a detailed comparison of hope tech 4 e4 vs v4 brakes
Concluding Bicycle Disc Brake Mount Types
This was all for the different types of disc brake mounts. It is up to you now to go for whichever disc brake mount you prefer. But, know that a flat mount is more popular because it allows you to install post-mount calipers on it with the help of suitable adapters. Likewise. it is not possible the other way around due to the lack of adapters. This can help save you some bucks.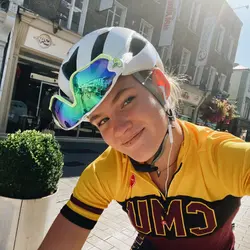 Hi, This is Catharine Pendrel, a professional cyclist and founder of Bikeoure. I have been riding bikes for more than 23 years and writing about cycling and other outdoor magazines for about 5 years. Mountain biking has been my passion ever since I first came across it a decade ago. I participated in various MTB tournaments and won numerous mountain trail races.
I started Bikeoure to share my expertise and cycling experience with cyclists all around the world to make them addicted to cycling. My cycling and solo traveling expertise help new cyclists find the best and latest gear in the market for their cycling adventures.