Bike rack is an essential vehicle accessory to transport bikes and kayaks from one place to another. Their supremacy in multifunctioning, convenience, affordability, and practical efficiency insists you to buy one.
There are different kinds of bike racks, but apparently, the platform vs hanging bike rack is the ongoing debate in the market as both have their own pros and cons. So, I decided to play a role as a focal person to settle the discussion with a quick clarification between hanging bike rack vs platform.
Platform vs Hanging Bike Rack – Detailed Comparison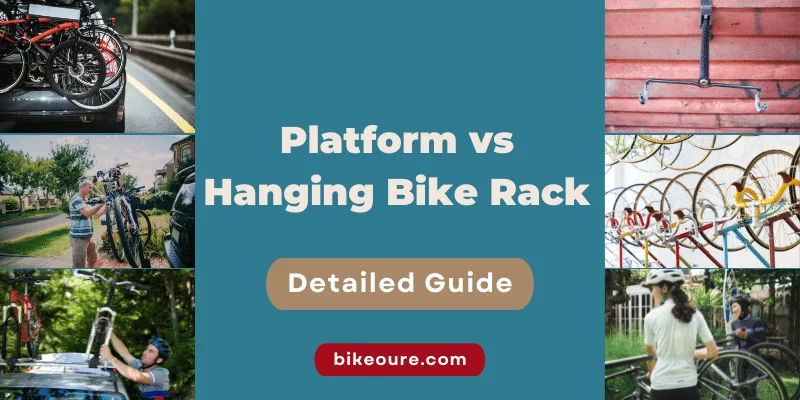 In this detailed comparison, we will explore the features, pros and cons of platform and hanging bike rack, helping you make an informed decision about which type of bike rack best suits your biking lifestyle.
Whether you're a casual rider, a passionate cyclist, or an avid adventurer, understanding the differences between these two options will assist you in selecting the perfect bike rack for your specific requirements. So, let's dive deep into the details.
Platform Bike Rack Advantages and Disadvantages
The platform bike racks come in a tray-like design that gets mounted to the hitch of your vehicle. In the context of structure, these racks are not minimal or portable because of their tray design which is made with the sturdiest materials to ensure utmost stability.
There is enough space on the tray so that you can lift the bike over and carry it from one place to another safely. In short, the platform bike rack is a robust, stable, heavy, and reliable rack to transport bikes but it is not minimal.
Due to the heavy duty construction, the platform bike racks are a bit expensive considering the material cost. But they are the luxury and dependable racks in today's market for their safe operation, ease of mounting and traditional style. So if budget is not an issue for you, the platform hitch bike racks are excellent quality-wise.
Along with that, I like the addition of proper slots for the bike's front wheel in the platform bike rack which aims to enhance safety and protection in comparison to other bike racks. Have a look at Toyota Tacoma bike racks.
Also, because of these slotting the bikes will not collide with each other regardless of how fast or rough you are driving which minimizes the risk of falling.
Moreover, the platform style bike racks have a special locking mechanism to hold the bike in place, so all in all, there is no need to worry about your bike's safety when you have the platform style bike rack.
If you own RAV4, have a look at my review about best bike racks for Toyota RAV4
Platform Bike Rack Pros
The platform bike rack brings an array of benefits including easy loading and unloading of bikes, reliable security, and protection, minimum movement and vibration during the ride, and no collapsing of bikes on the rack regardless of how swift the vehicle is moving.
Shortly, it delivers the contactless bike commutation by ensuring the utmost protection of your cycles. There is no need to lift your bikes high in the air with the tray-like platform hitch bike carriers because of their convenient-adding structure.
If you're a US resident, make sure to read about bike rack legal requirements.
Platform Bike Rack Cons
Realistically, the platform bike racks do have some drawbacks like they are not lightweight and portable like other bike racks. The bulky structure of platform racks makes their transportation from the store to your place and installation and detachment from the vehicle quite challenging. But once you get used to it, the overall application becomes a bit smoother.
If you own Volvo XC90 then you can read about best Volvo xc90 bike racks
Hanging Bike Rack Advantages and Disadvantages
The hanging bike rack comes in a mast-like design that aims to hold the cycle in place. As far as the profile of a bike rack is concerned, the hanging rack is my top recommendation for its minimal and lightweight body.
This is an important factor to consider as light racks are easy to mount and detach and offer improved maneuverability in comparison to other rack types. In my opinion, the hanging hitch rack is best suited for beginners for its effortless mechanism.
Their minimal structure doesn't mean any compromise on performance because the hanging bike rack features a superlative application. It comes with a proper locking mechanism that keeps your bike in place, avoids collapsing, and offers a smooth and safe bike commute experience. The thing that I love most about hanging bike racks is the ground clearance–all credit goes to their minimal design.
If you own or planning to use a swing away bike rack, then you should also read about best swing away hitch adapters.
Hanging Bike Rack Pros
The hanging bike racks stand out for their lightweight, portable, and user-friendly profile. Repeating this; if you are an inexperienced user, go with the hanging rack to experience hassle-free bike transportation.
Also, the modern hanging racks come in a foldable design which allows the rack to minimize to 2x smaller size so that you can place or store the rack in a cabinet, car's trunk, or wherever you want to. This feature is adding supremacy in maneuverability and compactness.
As the hanging racks are lighter, it gives you the ease of installation and detachment as heavy racks are challenging to lift and mount over the vehicle. You'll easily attach the hanging rack to the hitch receiver and secure it using hooks.
Please read the instructions manual for more assistance with the attachment of a folding rack. For Jeep Wrangler owners, it is recommended to get the best bike rack for jeep wrangler.
Hanging Bike Rack Cons
Truthfully, there are some drawbacks of having a hanging rack for bikes like it is not very compatible with bike models. As a beginner, it might be challenging for you to lift the bike and hang it over the carrier. To be honest, you have to lift the cycle or bike a bit high in the air to hang it out securely, which is not the case with tray-style carriers.
You may also be interested to read about best bike racks for Subaru Forester
Comparison of Platform vs Hanging Bike Rack
Now that you're aware of both types of bike carriers, it's time to conclude the comparison platform vs hanging bike rack!
1. The first difference between both racks is in price, as it is a major concern of most buyers out there. The hanging hitch racks are comparatively more cost-effective than platform bike racks.
2. Secondly, the mounting style of both bike racks is very different from each other. The platform racks are challenging to mount onto the hitch because of their bulky profile.
3. Then comes stability, which is another significant factor to consider when purchasing a top-notch bike rack. You will notice the difference, as platform bike racks are more stable and robust as compared to hanging bike racks due to their superior construction quality.
4. When choosing a bike rack, you need to check for compatibility because not every bike rack is meant to be attached to your vehicle and hold your bike in place.
Therefore, you should keep an eye on the size of your bike, the model of your vehicle, and the specifications of the bike rack you're buying. For your information, the platform bike racks offer wide compatibility than hanging bike racks.
5. Finally, the loading capacity also makes a difference between platform and hanging racks, as hanging bike rack can allows you to carry more weight as compared to platform bike racks.
For Range Rover owners, it is recommended to go through my review about range rover bike racks
Watch a detailed video comparison of Platform vs Hanging Bike Rack
Frequently Asked Questions
How much weight can a bike rack hold?
That depends on the carrying capacity of your bike rack, where some are compatible to hold three bikes at once while others are limited to one bike only. As far as the debate of platform vs hanging bike rack is concerned, hanging racks hold more weight than other kinds of bike racks.
Do e-bikes need a special rack?
Yes! this is because the electric bikes are different in structure and weight, so they are not compatible with traditional carriers. You should opt for a bike rack specifically designed for e-bikes to be on the safe side.
What should I look for to get a bike rack for my car?
When buying the bike rack you should consider its build quality, compatibility, stability, mounting style, and price. In my opinion, compatibility is the foremost factor because if a rack is not suitable for your vehicle's model; it is of no use.
You can also read a detailed comparison of tailgate pad vs bike rack
Concluding Hanging vs Platform Bike Rack Comparison
The platform racks stand out for their utmost stability, robust build quality, resistive properties, and securing arms. These racks are built to last forever; I love their tray-like structure, designed to give you the ease of loading and unloading bikes.
With the flip of a coin, the hanging racks add unbeatable ease of handling and maneuverability-all thanks to their lightweight design. In conclusion, it's up to your preferences to choose the best!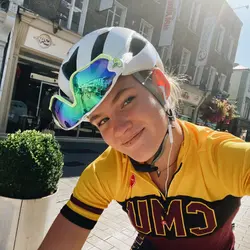 Hi, This is Catharine Pendrel, a professional cyclist and founder of Bikeoure. I have been riding bikes for more than 23 years and writing about cycling and other outdoor magazines for about 5 years. Mountain biking has been my passion ever since I first came across it a decade ago. I participated in various MTB tournaments and won numerous mountain trail races.
I started Bikeoure to share my expertise and cycling experience with cyclists all around the world to make them addicted to cycling. My cycling and solo traveling expertise help new cyclists find the best and latest gear in the market for their cycling adventures.