Get Ready for a Sudden Adrenaline Rush and Goosebumps considering today's topic of discussion, i.e. Downhill Mountain Biking!
As the name itself suggests, downhill mountain biking is riding down the terrain while facing all sorts of challenges including jumps, mud, dirt, and whatnot. The sport, these days is spreading in local as well as international biking communities like a wildfire.
That's why, I am here to discuss the basics of downhill mountain biking and that includes what it actually is, what equipment is required for it, and how YOU can get started with it. Stay Tuned!
What is Downhill Mountain Biking?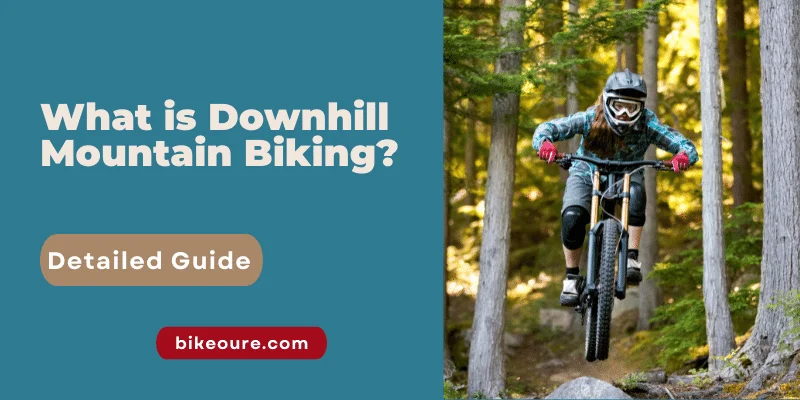 Wikipedia describes downhill mountain biking in the following words, "DH is a sort/style of biking practiced by professional bikers on steep and rough terrain that may include, rocks, high jumps, muddy trails, and other such obstacles."
Redbull makes DH racing much easier to understand by describing it in form of a question, i.e. "Which rider can get to the bottom of the hill in the shortest possible time?"
I, on the other hand, describe downhill biking as a Sport worthy of being compared to Bull Racing. There's effort, there's the need for stamina, and there's the will and confidence to achieve the impossible while the biker cruises down rough terrain.
I won't get much into how it all started except for the fact that the first ever downhill biking race took place in Fairfax, California on October 21, 1976. I'd get right to the chase from here. However, if you are looking for more details on history, read about history of mountain biking.
How to get started with downhill mountain biking?
Many beginners think that DH biking requires some serious investment and that's what I thought at first too because I was just a newbie like all of you guys.
Yeah, it's true to a certain extent that you'd need stuff like the best downhill mountain bike, customized suspension along with downhill MTB tires. But as we say where there's a will there's a way and that's what I think is more than enough for a new biker to get started with mountain biking.
Is downhill mountain biking dangerous?
Yes, downhill mountain biking can be dangerous. It involves riding a specialized bicycle down steep on rugged terrain at high speeds, often with obstacles such as rocks, roots, and jumps. The combination of high speeds, technical terrain, and potential crashes can lead to injuries.
Mountain bike riders can experience falls, collisions, or other accidents that may result in broken bones, concussions, abrasions, or more severe injuries. However, it's important to note that with proper safety precautions, skill development, and protective gear, the risks associated with downhill mountain biking can be mitigated.
MTB riders should always wear a helmet, pads, and other protective equipment, and they should receive proper training and ride within their skill level. Additionally, maintaining the mountain bike in good condition and being aware of trail conditions can contribute to a safer downhill riding experience.
Equipment You Will Need for Downhill Mountain Biking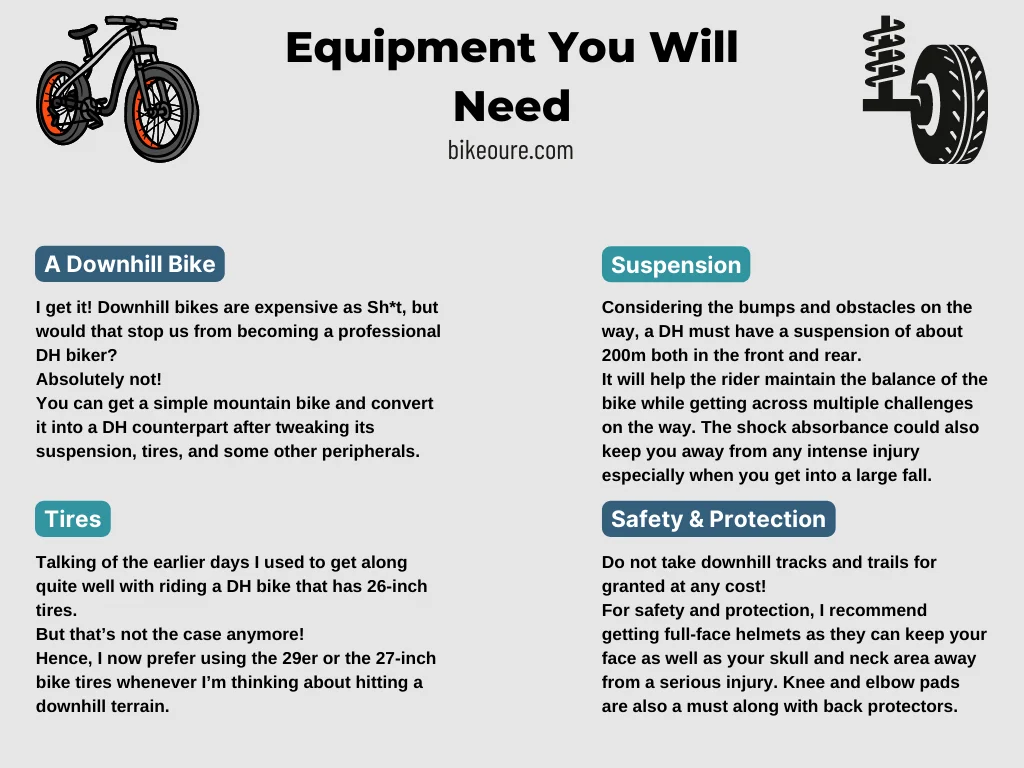 Let's get started with breaking down the equipment necessary for downhill biking first:
1. Downhill Mountain Bike
I get it! Downhill bikes are expensive as Shit, but would that stop us from becoming a professional DH biker? Absolutely not!
You can get a simple mountain bike and convert it into a DH counterpart after tweaking its suspension, tires, and some other peripherals.
2. Suspension for DH Mountain Bike
Considering the bumps and obstacles on the way, a DH must have a suspension of about 200m both in the front and rear.
It will help the rider maintain the balance of the bike while getting across multiple challenges on the way. The shock absorbance could also keep you away from any intense injury especially when you get into a large fall.
Talking of the rear shock, it's mostly a coiled one while the fork has always got a double-fork crown shock system to sustain the bike during the ride as much as possible. Have a look at best mountain bike hydraulic brakes.
3. Downhill MTB Tires
Talking of the earlier days I used to get along quite well with riding a DH bike that has 26-inch tires. But that's not the case anymore!
With the introduction of 27 and 29-inch wheels, downhill MTB riders like me have already realized the benefits and potential of larger hoops. Hence, I now prefer using the 29er or the 27-inch bike tires whenever I'm thinking about hitting a downhill terrain.
4. Safety and Protection
Do not take downhill tracks and trails for granted at any cost! For safety and protection, I recommend wearing downhill mountain bike helmet as they can keep your face as well as your skull and neck area away from a serious injury.
Knee and elbow pads are also a must along with back protectors. I also suggest wearing special MTB shoes designed for DH riding to maintain your foot on the pedals while cruising at a higher pace. Also have a look at best Garmin watch for mountain biking.
In summer season, you can also wear best summer MTB gloves to protect your hands from hot weather
How to Ride a Downhill Terrain as a Beginner?
Nope, I'm not asking you guys to directly start riding on a dangerous trail all of a sudden. I'd rather go to a park made for biking and practice my riding skills over there if I was a beginner.
Same is the suggestion for newbies. Focus on maintaining your physique, and stamina, and customizing your bike to endure the rough and tough challenges while riding downhill. Also have a look at guide about enduro bike riding.
That said, find a local MTB community in your area and start networking with other bikers as a beginner. Get to know their routine and start riding with them to gain more experience as a DH biker.
Rest, you can start with a beginner or intermediate downhill terrain, and while you are at it focus on completing the track without getting any injury as a beginner. Once you perfect the basics of DH biking, it will not be difficult for you anymore to reach the bottom of rough terrain in the quickest way possible.
You can also read about best night cycling glasses for mountain biking
FAQs about Downhill Mountain Biking
What is the difference between a mountain bike and a downhill bike?
One can call downhill bike an upgraded version of a mountain bike to be precise. A downhill bike has both rear and front suspension and it is relatively heavier than a mountain bike. More than that, stability and durability are two factors that are kept in mind while we talk about downhill bikes.
Is downhill mountain biking hard?
Rome was not built in a day and you should believe that while starting out with downhill biking. Of course, it's hard considering the technicalities of the trail, the harsh challenges, and sloppiness. However, with time you can improve yourself with frequent practice.
Can you ride a downhill bike on an uphill trail?
Usually what DH riders do is that they get their bikes transported on top of the hill by utilizing the transport facilities so they can save their stamina for downhill riding. But, one can still climb an uphill trail with a DH bike although the rider will need to stay calm with the low speed.
Final Thoughts On Downhill Mountain Riding
It all comes down to an adventurous gravity-fueled biking experience whenever we talk about DH racing. I could not explain each and everything here because I just wanted to give you all an idea of what DH biking actually is and how you can get started with it. Got the basics? Time to customize your bike and hit some casual DH tracks in your nearby locality.
Happy DH Mountain Biking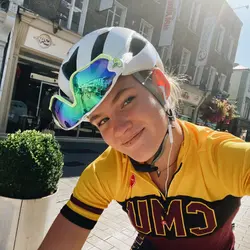 Hi, This is Catharine Pendrel, a professional cyclist and founder of Bikeoure. I have been riding bikes for more than 23 years and writing about cycling and other outdoor magazines for about 5 years. Mountain biking has been my passion ever since I first came across it a decade ago. I participated in various MTB tournaments and won numerous mountain trail races.
I started Bikeoure to share my expertise and cycling experience with cyclists all around the world to make them addicted to cycling. My cycling and solo traveling expertise help new cyclists find the best and latest gear in the market for their cycling adventures.