Some of the types of mountain bikes include enduro, cross-country, hardtail, downhill, trail bike, etc. So, if you are planning to start your mountain biking journey or have already into it, it is quite common to have confusion about the many types of mountain bikes used for riding.
Therefore, we are going to talk about difference between a trail bike and a cross country XC bike to give you a clear picture regarding both as these two are confused the most. For a beginner rider, an XC bike and a trail bike might appear the same at first glance. But, after learning about their components in this article, you'll realize how much different they are from one another.
Difference Between A Trail Bike and A Cross Country XC Bike
In this part, I will enlist some technical aspects of Cross Country XC Bike vs Trail Bike. Wait, before I do that, do you know what is cross country biking and trail biking? Not sure? Keep reading to learn about these terms and also read about enduro mountain biking.
What is Cross Country Biking?
Cross Country Biking includes terrains such as forest paths, paved paths, single tracks, etc. This type of biking is all about speed, covering larger distances, and less adrenaline.
Cross country bikes are designed for speed and efficiency over long distances. They are typically the lightest type of mountain bike and feature a geometry that positions the rider in a more forward-leaning position to maximize power transfer to the pedals.
Cross Country XC bikes generally have less suspension travel than other mountain bikes,, typically around 80-120mm. This helps to save weight and increase pedaling efficiency, but it can make the bike less capable on rough and steep terrain. The gearing on a XC bike is also generally set up for fast, flat terrain and sustained climbs.
What is Trail Biking?
On the other hand, trail bike riding involves rougher and uneven tracks with more ups and downs such as rocks, forest paths, unpaved paths, etc. Likewise, trail biking has got little to do with distance and more with adrenaline.
Trail bikes are designed to be all-rounders. They are typically heavier than Cross Country bikes, but they have more suspension travel – typically around 120-150mm. This allows them to handle a wider range of terrain, including rough and steep trails.
The geometry of a trail bike is generally more relaxed than a XC bike, with a more upright riding position that provides better control on steep and technical descents. The gearing on a trail bike is typically set up to handle a wider range of terrain, including both climbing and descending.
Cross Country Bike vs Trail Bike
To help you understand the difference between a trail bike and a cross country bike in more detail, I have added a detailed comparison table of cross country bike vs trail bike.
| Features | Cross Country Bikes | Trail Bikes |
| --- | --- | --- |
| Weight | Lighter (around 20 – 27 lbs.) | Heavier (around 28 – 35 lbs.) |
| Suspension Travel | Less (80 – 120mm) | More (120 – 150mm) |
| Geometry | More aggressive, forward lean | More relaxed, upright position |
| Terrain Capability | Fast, flat terrain and climbs | Rough, steep, varied terrain |
| Gearing | Suited for sustained climbs | Suited for varied terrain |
| Rider Position | More forward-leaning | More upright |
| Efficiency | Higher | Lower |
| Downhill Performance | Good, but not optimal | Better |
| Uphill Performance | Excellent | Good |
| Versatility | Less versatile | More versatile |
| Typical Use | MTB Racing and Long Distance Riding | General trail riding and downhill rides |
You may also want to know can I ride a mountain bike on the road
Factors That Makes Difference Between Cross Country XC and Trail Bike
Did you understand the difference between the two types of mountain biking well? Great. Now, let's go through the factors that make a cross country bike different from a trail bike:
1. Wheel size of cross country bike vs trail bike
Cross country bike wheel size
A cross-country bike has a wheel size of 29 inches. This size is ideal for cross-country mountain riding as it assists in increasing efficiency during pedaling which is much needed when going for a longer distance.
Trail bike wheel size
In the case of a trail bike, you will find diversity in wheel sizes ranging from 27.5 to 29 inches. Therefore, you can choose a size that caters to your needs the best.
2. Head angles of XC vs Trail Bike
Cross-country bike head angles
Looking at the geometry of a cross-country bike, the head angles range between 69-71 degrees and thus have comparatively steeper angles. Steeper angles in XC bikes allow better handling.
Trail bike head angles
For a trail bike, the head angles are wide and within the range of 65-68 degrees. This range is perfect for downhill mountain biking.
You can also have a look at best mountain bike hydraulic brakes
3. XC vs Trail bike Tires Nature
Cross country bike tires
Since both bikes function differently and are for different terrains, the tires are differently built too. If we go into cross-country biking, you'll see more flat and less difficult terrain. Therefore, the tires of an XC bike are smooth. This makes the rolling fast without any hindrance so that they can attain maximum speed when riding.
Trail bike tires
Trail biking involves more difficult and unstable grounds. Therefore, to have a strong grip on uneven terrains, the tires of a trail bike are heavily threaded. Threaded tires keep the trail bike balanced on jagged tracks.
If you're a mountain biker, you should know about the best tire pressure for your mountain bike
4. Front suspension of Trail vs XC bike
Cross country bike front suspension
An XC bike has light yet rigid forks made of carbon fiber and steel. An air spring acts as a suspension in these rigid forks that has a travel range between 100mm and 120mm. The presence of these forks keeps the overall weight of the bike down which is necessary for cross-country mountain biking. Plus, it makes the bike more sensitive and easy to handle.
Front suspension of trail bike
On the contrary, the forks of a trail bike are lighter than downhill mountain bike specific forks but heavier than cross-country-specific forks. The travel of these forks ranges from 130mm to 170mm and so are heavy. Besides, you will have features like lockout and adjustments that help to lower the fork whenever going for a climb.
5. Rear Suspension Comparison of XC bike vs trail bike
XC bike rear suspension
Also referred to as a hardtail, a cross country bike has no rear suspension. This is because an XC bike that lacks rear suspension allows easy pedaling and reduces weight.
Rear suspension, if any would be in the form of an air-sprung shock with a travel range between 80mm and 120mm. Plus, it would feature a lockout to make climbing painless.
Trail bike rear suspension
As a trail bike is for climbing over rocks and all sorts of unbalanced terrains, the presence of a rear suspension is a must. So, the rear suspension of a trail bike has more travel range as compared to that of an XC bike. It normally has a travel range from 120mm to 160mm. This increased rear suspension is for overcoming each impossible terrain with ease.
Moreover, you can also get a suspension of your liking for your trail bike. But, keep one thing in mind, suspension with less travel will give you the same experience as an XC bike.
6. Dropper posts of cross country bike vs trail bike
Cross-country bike dropper posts
A cross country bike has more rigid seat posts of either aluminum or carbon origin. But, recently dropper posts have replaced the usual seat posts. This is mainly because of their light nature which provides ease during biking.
Trail bike dropper posts
The trail bike also comes with dropper posts. However, the only issue is the extra weight that comes with it. But, bikers neglect the weight considering the comfort that the dropper posts guarantee.
While bike riding in summer, make sure to wear hot weather MTB gloves.
FAQs about XC and Trail Bike
Can I ride trail bike it on cross country mountain terrain?
You can. However, I will not recommend it. The reason for this is that you will soon feel tired due to the rear suspension on a trail bike that makes pedaling quite a tiresome activity.
Should I buy both an XC bike and a trail bike if I want to start mountain biking?
There is no need to purchase both. First, identify what type of biking you like and wish to continue. Only then go for a bike purchase.
What would be the appropriate rear suspension for my trail bike?
Although you can get a suspension of your choice, always prefer the one with more travel range. Because increased travel range will make your journey easy.
Concluding Trail Bike vs Cross Country Bike Comparison
I hope this cross-country (XC) bike vs trail bike overview answered every query you ever had regarding mountain bikes. To sum up, I would say that before jumping onto any bike and investing your time and money in it, you gotta sit back and ask yourself what sort of mountain terrain you enjoy the most and what landscapes you would want to explore with it. This would help you choose a bike best suited to your needs.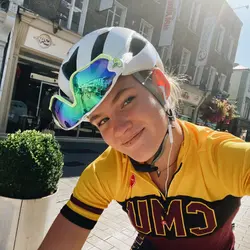 Hi, This is Catharine Pendrel, a professional cyclist and founder of Bikeoure. I have been riding bikes for more than 23 years and writing about cycling and other outdoor magazines for about 5 years. Mountain biking has been my passion ever since I first came across it a decade ago. I participated in various MTB tournaments and won numerous mountain trail races.
I started Bikeoure to share my expertise and cycling experience with cyclists all around the world to make them addicted to cycling. My cycling and solo traveling expertise help new cyclists find the best and latest gear in the market for their cycling adventures.