Cold hands can lead to accidents while biking due to loss of blood circulation. Therefore, it is important to maintain the temperature of your hands in all seasons. The best winter mountain biking gloves ensure safety from freezing, withstand external pressures (weather and sweat), and provide a comfortable ride. Investing in them is worthwhile for these reasons.
As far as mountain biking is concerned, you need to be a bit more concerned about the stability to ride on steep surfaces without any accidental falloffs. For that reason, the finest winter MTB gloves are those which come with anti-slip surface to ensure safety and protection.
Are cycling gloves good for winter?
Cycling or biking gloves are specially designed to tackle extreme temperatures and give you a better handling experience. The finest winter biking glove is the one that is comfortable to wear, maintains the normal temperature, allows air to pass, and is strong enough to resist pressures.
There are several other factors to look for when buying cold weather mountain bike gloves like build quality, price, breathability, and comfort. So, I decided to sum up the top most winter MTB gloves from the market for your ease, let's go through them.
Best Winter Mountain Biking Gloves Overview
5 Best Winter Mountain Biking Gloves Review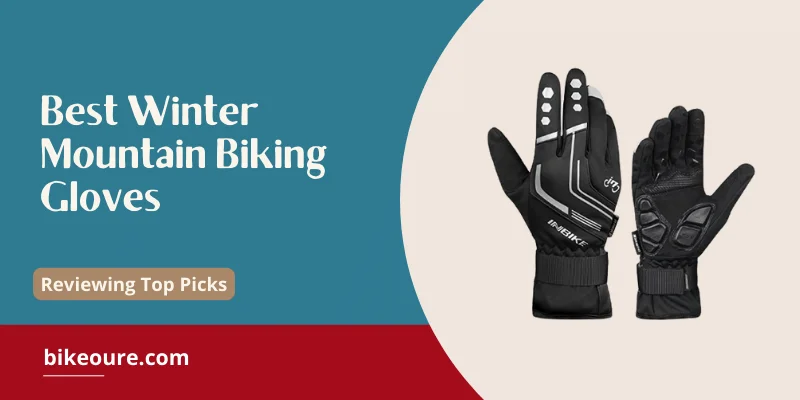 1. INBIKE Winter MTB Gloves
Best Overall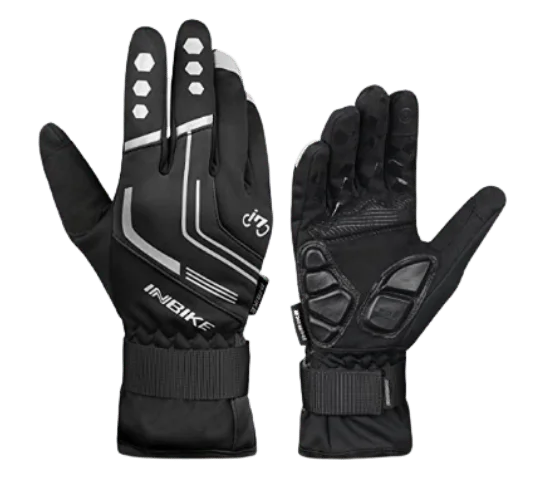 Features
Material : Silicone, Ethylene Vinyl Acetate
Recommended For: Cycling
Closure Type: Hook & Loop
Weight: 0.3 lbs.
Other Significant Features: Windproof composite fabric, Wrist tie design
The first choice on this list is INBIKE winter gloves which feature excellent build quality. These gloves are made of pure fabric that is weaned in a way that allows air molecules to pass through easily.
In other words, fabric gloves are considered good for their breathability and sweat-free performance. This factor is of great importance because mountain bikers need to wear gloves for a long time and continuous humidity could give birth to fungal growth or infections.
In addition, there is a fleece inner lining in these gloves that ensure ideal comfort for the rider's hands. Regardless of how cold or hot the exterior weather is, the fleece lining of INBIKE winter gloves will keep your hands protected by storing the ideal warmth inside.
Over that, on the outside, there is a hook and loop closure setup on the wrist area that fastens your hands safely and reduces the unpredictable falling risk to zero. The INBIKE gloves are based on innovative gel-padding technology in which three gel pieces are added inside the fabric to keep the palms comfortable as well as safe.
In other words, the gel padding system makes the pair of gloves shock-absorbent, breathable, comfortable, and whatnot. Also, it provides a strong grip on the bike handles and reduces the risk of accidents.
Furthermore, there is a reflective ribbon on the backside of the INBIKE gloves which aims to improve the overall visibility. The inclusion of this feature is quite helpful especially when you are riding on winter nights.
Over that, you can also use touch screen phone or bike computer while wearing these incredible gloves because there is a microfiber added to the fingertips that gives access to touchscreens.
What I liked
Windproof
Temperature-resistance
Comfortable
Why I Recommended INBIKE Winter Gloves
In conclusion, the INBIKE gloves stand out for their utmost resistance to cold weather. They come with fleece lining that protects your hands from wind, humidity, and other impact factors and ensures safety. Over that, the outside of the gloves has a touchscreen-compatible lining that allows you to use smartphones while wearing the gloves. In a word, the INBIKE gloves are comfortable, compatible, and firm.
For summer bike rides, you can also have a look at best mountain bike gloves for hot weather
2. ROCKBROS Winter Mountain Biking Gloves
Premium Pick
Features
Material : Layca, Rubber
Recommended For: Cycling
Closure Type: Hook & Loop
Weight: 0.4 lbs.
Other Significant Features: Knuckles Protection, 6MM Gel Padding
When it comes to the mountain biking safety gear, ROCKBROS is the brand you must have heard of because of its popularity and increased demand. The company has been providing excellent quality products for years and still have a strong grip on bike gloves, downhill helmets, enduro MTB helmets and other protective apparel in the market.
As a long-term user, ROCKBROS is the number-one brand to refer to any level biker, and here is the reason:
The ROCKBROS MTB gloves are made of high-quality rubber that features excellent protection. Unlike regular gloves, these gloves are specially designed for mountain biking and come with increased safety.
You'll not even get a little dirt particle on your hands with these MTB gloves because of their knuckle protection.
ROCKBROS gloves are best suited for mountain biking because they are dust proof. In addition, these gloves include a six-millimeter-thick silica gel padding that aims to give you the most comfortable biking experience ever. Silica gel adds shock absorbance, relaxation, and relief from fatigue even after riding a bike for hours.
In short, there is no need to worry about numbness and pain when you are wearing these ROCKBROS gloves. As I said before, when buying the gloves for mountain biking , "breathability" is something you cannot skip because lack of air leads to fungal growth, skin diseases, or infections.
Air is necessary for your hands without considering the type of weather, so it is important to get a well-ventilated pair of gloves. Therefore, the ROCKBROS gloves are made of special Lycra fabric that ensures air passage and gives you a breathable riding experience. You may also want to know can I ride a mountain bike on the road.
What I liked
Skin-friendly
Lifetime warranty
Breathable fabric
Why I Recommended ROCKBROS Winter MTB Gloves
ROCKBROS is indeed a famous brand in the gloves market for selling top-quality products. These best winter gloves for mountain biking have earned an excellent reputation for their skin-friendly fabric which allows air molecules to pass through and keeps your hands fresh and sweat-free.
In addition, the brand is also offering a lifetime warranty on this product allowing you to make a safe purchase, so what else are you looking for? You can also read about best glasses for night cycling.
3. GEARONIC Mountain Bike Gloves
Top Pick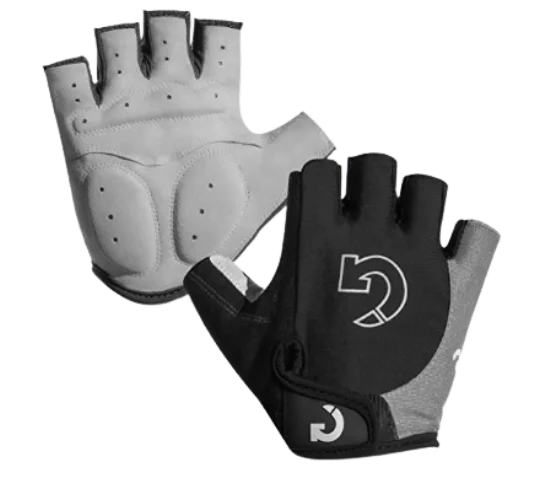 Features
Material : Suede
Recommended For: Cycling
Closure Type: Hook & Loop
Weight: 0.2 lbs.
Other Significant Features: Breathable Mesh, Fingertip Puller Pockets
Next on the list is GEARONIC bike gloves which are my favorite for their construction quality. These gloves are made of spandex fabric that brings these benefits: spandex is lightweight, comfortable, repellent to perspiration, elastic, breathable, durable, and resilient. Spandex doesn't stick to your skin and keeps it fresh and healthy even after hours of wearing, however, it is a bit sensitive to high heat.
In the context of safety gear, the "MTB gloves" is a term used to interpret the rider's gloves that ensure excellent hand grip, reduce vibration, evacuate sweating, retain normal warmth, and protect hands from injuries.
GEARONIC gloves are best cold weather MTB gloves due to their heavy duty construction, durability, and excellent performance. Shortly, your mountain biking journey will become smooth, comfortable, and accident-free with these gloves.
Moreover, GEARONIC MTB winter gloves are versatile, meaning their usability is not limited to mountain biking only. You can wear GEARONIC while mountain biking, touring, or at the gym.
These gloves are available in both fingerless and full-finger designs. So you can choose one as per your choice and comfortability. But as far as winter mountain biking is concerned, you should choose full finger gloves. With all these above mentioned features, Gearonic MTB gloves are ideal for enduro mountain biking.
What I liked
Durable
Versatile
Various size options
What I didn't like
● Appearance-wise average
Why I Recommended GEARONIC Bike Gloves
In a nutshell, if you're looking for something functional regardless of whether it looks classy or not, the GEARONIC bike gloves are meant for you because of their unbeatable performance. These gloves are made of ever-lasting material that stands stiff against external pressures and ensures excellent protection.
The inclusion of different size options, versatility, and breathability makes the GEARONIC the perfect choice. You may also want to know are van shoes good for mountain biking.
4. HUANLANG MTB Gloves for Cold Weather
Editor's Choice
Features
Material : Spandex, Silicone, Leather
Recommended For: Cycling
Closure Type: Hook & Loop
Weight: 0.1 lbs.
Other Significant Features: Thicken SBR Shock Pads & Anti-slip
Buyers are differentiated based on their perception and preferences. For instance, some rely on reputable brands while others give chance to newcomers in the market.
If you're not the one who sticks to well known outdoor products brands only, the HUANLANG gloves are recommended for you for cold weather. HUANLANG is not a popular brand in the industry, but there gloves for cold weather mountain biking will not let you regret because of their excellent performance and rugged build quality.
The HUANLANG gloves are layered with millimeter gel SBR pads that add shock absorbance, pain reduction, and overall zero fatigue experience. The gel is added in a triangle shape at the palm region to support the firm grip for stable mountain biking experience.
Gel padding also contributes to lowering the chance of accidents or fall-offs especially during downhill mountain biking. Therefore, it would be right to say that HUANLANG is increasing the safety of outdoor adventurous activities by including new technology.
HUANLANG gloves are touch sensitive because of the microfiber added on the fingertips area of gloves. It means you can use smartphone, take pictures, change songs, and roam around using GPS mountain biking watch GPS services effortlessly because there is no need to take off the gloves.
In short, the HUANLANG winter mountain biking gloves are comfortable, flexible, and convenient. For mountain bike riding during rainy season, make sure to wear cycling rain cape poncho.
What I liked
Budget-friendly
Wide application
Sweat-free gloves
Why I Recommended HUANLANG Gloves for Cold Weather
If you're not a brand-conscious, the HUANLANG cycling gloves are recommended due to their affordability yet excellent performance. These are wide application gloves that are available in four different sizes and five vibrant colors, among which you can choose one as per your choice. I found these gloves reliable for their guarantee and 24 hours customer service that get your queries done.
If you're facing testicular pain due to mountain biking, read my guide about how long does testicular pain from cycling last
5. ROCKBROS Winter MTB Gloves for Night Rides
Heavy Duty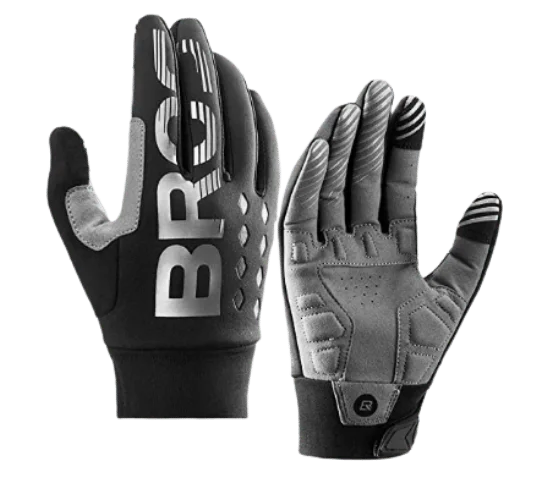 Features
Material : Rubber
Recommended For: Cycling
Closure Type: Hook & Loop
Weight: 0.1 lbs.
Other Significant Features: Windproof, Lightweight
Last but certainly not least, the ROCKBROS biking gloves are another striking gloves that comes in a stylish appearance. It has an appealing appearance with a logo that enhances your sporty look and looks quite aesthetic.
Apart from the stylish design, these ROCKBROS cycling gloves also include a reflective feature that makes night riding easier and accident-free. These gloves are built with excellent quality fabric material, which is lightweight, resilient yet comfortable.
ROCKBROS cold weather cycling gloves weighs no more than 0.7 lbs. and feels like a feather in your hands to provide you with a comfortable riding experience while wearing the. The elasticity of the fabric makes these gloves breathable and sweatproof.
The grip is a very important element when it comes to gloves because a slipping glove is worthless and in the case of mountain biking it can lead to accidents. Thus, you need to opt for an anti-slip and strong glove pair that supports a firm grip and supportive handling like ROCKBROS cycling gloves.
You can also use smart gadgets and navigate GPS applications because the fingertips of these ROCKBROS gloves are touchscreen-friendly. For elbows protection during mountain biking, make sure to wear mountain bike elbow pads.
What I liked
Branded
Reliable
Flexible
What I didn't like
Fastening needs improvement
Why I Recommended ROCKBROS MTB Gloves
The ROCKBROS gloves are trendy for their brand's reputation and reliable performance. As a mountain biker, you cannot take any risk by trusting a worthless item, likewise, the ROCKBROS is a gateway for all brand-conscious bikers. These gloves are built with industrial-grade materials that possess excellent resistance, strong grip, breathability, and utmost protection. There is certainly no need to worry about these fully functional gloves.
If you're heavyweight and looking for a bike that you can ride comfortably, have a look at best bikes for plus size women
FAQs about MTB Gloves
What gloves should I wear for mountain biking?
Full-finger gloves are ideal for mountain biking because they provide full protection and safety. But make sure to opt for one which facilitates breathability. Also, the best mountain biking gloves are the one that provides excellent grip, support handling, ensures air ventilation, and provides a comfortable wearing experience. However, fingerless gloves are also considered but not in winter.
Are MTB gloves worth it?
In the context of safety gear, the "MTB gloves" is a term used to interpret the rider's gloves that ensure excellent hand grip, reduce vibration, evacuate sweating, retain normal warmth, and protect hands from injuries. In short, the MTB gloves are worthwhile for their heavy-duty construction, long-lastingness, and excellent performance.
Final Thoughts on Winter MTB Gloves
Mountain biking becomes more adventurous and riskier in extreme weather but wearing the best pair of gloves can reduce accidental happenings by ensuring excellent comfort, breathability, and firm grip. In today's blog, I summed up the topmost products under one roof which will bring your biking experience to the next level.
Here is what we have discussed above:
In conclusion, you must look for construction quality, lastingness, comfort, grip, closure, breathability, and resistance to have the best pair. Biking gloves do not cost you more than twenty-five or thirty dollars, so don't waste money on worthless or expensive items and swipe up to read the top-notch products. Also, don't forget to measure your hand's proportion and get the ideal size for you.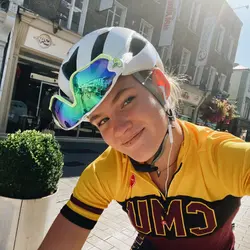 Hi, This is Catharine Pendrel, a professional cyclist and founder of Bikeoure. I have been riding bikes for more than 23 years and writing about cycling and other outdoor magazines for about 5 years. Mountain biking has been my passion ever since I first came across it a decade ago. I participated in various MTB tournaments and won numerous mountain trail races.
I started Bikeoure to share my expertise and cycling experience with cyclists all around the world to make them addicted to cycling. My cycling and solo traveling expertise help new cyclists find the best and latest gear in the market for their cycling adventures.