It is a well-known fact that Shimano pedals are popular among bike riders as they have better contact with your feet as compared to flat pedals. This results in a more secure connection and thus improves your pedaling efficiency. Now you may ask which one is better, M520 or M540. So, let me help you with that.
Shimano's M520 and M540 are two well-regarded SPD pedal models in the cycling world, both falling under the company's mountain bike pedal lineup. They are designed for mountain bike riders who demand performance, durability, and affordability. But what sets them apart? Let's delve into the features and performance of Shimano M520 vs M540 SPD pedals.
Shimano PD M540 vs M520 Review: Everything You Should Know
In this article, we will dive into a detailed comparison of two popular Shimano models: the M520 and M540 pedals. This Shimano m520 vs m540 pedals comparison will help you get familiar with the advantages and disadvantages of both Shimano SPD pedal models and will help you choose the right one according to your needs.
Let's start with the Shimano m520 and then move toward the Shimano m540.
Shimano PD-M520 SPD Pedals
The simplicity and reliability of the Shimano m520 make it one of the most popular mountain bike pedals. Gravel bikers, commuters, and MTB riders use these pedals for their ease of use. Keeping these pedals maintained and lubricated will give you the same performance as all the high-priced pedals out there.
Moving towards its features, the weight of m520 is 380g. Looking at the spindle design, it has wrench flats on the spindle. Besides, it has sealed cartridge bearings. The open binding system is for shedding mud better.
Although it is cheap, the build quality or the performance is not compromised. The pedal body is of aluminum and has SPD Cleat surfaces on both sides.
Pros of Shimano M520 Pedals
Easy to install and adjust
It is easier to get out of the clips whenever stopping or falling
Does not require oiling or greasing before going on a ride
Require no maintenance
Cons of Shimano M520 Pedals
Slightly heavy
Pedals start to crack and produce an annoying sound after traveling for some hundred kilometers
For fat female MTB riders, it is recommended to ride mountain bike for overweight female
Shimano PD-M540 SPD Pedals
They are also referred to as a refined version of m520 pedals. These pedals attach to the crank through an 8mm hex key. Moving on, the weight of Shimano m540 is 352g. They have no wrench flats on the spindle and have a slim axle.
Due to the absence of spanner flats, they need fitting with the help of a hex key from the rear of the crank. Also, the lock ring is of metal instead of plastic and it holds the bearings.
The pedals have a nice finishing look. Better-quality sealed cartridge bearings make them durable and a low-maintenance performer. They suit all riding styles and every rider as they allow adjustability in the spring tension. Cyclocross bikers, gravel bikers, cross country bikers and trail riders commonly use these pedals.
Pros of Shimano M540 Pedals
Its lightweight makes it suitable for all sorts of riding
Installation is simple, you just need an Allen key to adjust both sides of the pedals
The open design prevents mud build-up, making it suitable for all conditions
No issues with pedaling after you hit large rocks
Cons of Shimano M540 Pedals
The absence of a wrench flat makes it difficult to remove the pedal from the crank
Learning how to enter and exit the pedals take time
You may also be interested to read about best mountain bike hydraulic brakes
Shimano M540 vs M520: Which one is for you?
Choosing between the Shimano M520 and M540 pedals depends on your specific needs and budget. The M520 offers great performance and durability at a more affordable price, making it a good choice for beginners and casual riders.
On the other hand, the M540, with its lighter weight and refined build, may be worth the extra cost for more serious cyclists or those looking for an upgrade. Let's look at the detailed comparison of Shimano M540 vs M520 features:
| | | |
| --- | --- | --- |
| Feature | Shimano M520 | Shimano M540 |
| Design and Build Quality | Steel body with aluminum cage | Aluminum body with chrome-moly spindle |
| Adjustability | Adjustable tension | Adjustable tension |
| Performance | Reliable performance, lesser mud-shedding | Smooth operation, better mud-shedding |
| Weight | Around 0.82 lbs. | Around 0.78 lbs. |
| Price | Typically cheaper | More expensive, but generally considered worth it for the performance increase |
Design and Build Quality of Shimano M540 vs 520 Pedals
Both the M520 and M540 are SPD (Shimano Pedaling Dynamics) pedals, meaning they are designed for mountain biking and offer the ability to clip in on both sides.
The M520 pedals are Shimano's entry-level SPD pedals, featuring a sturdy steel body with an aluminum cage. They are reliable and durable but not as lightweight as some of the higher-end bike pedal models.
The Shimano M540, on the other hand, features a more refined design with an aluminum body and chrome-moly spindle for added strength. They also have a slimmed-down platform compared to the M520, which reduces weight while still providing a reliable connection between shoe and pedal.
Performance and Adjustability
Both pedals offer adjustable tension, which means you can change the force required to clip in and out to suit your personal preference. However, the M540 generally offers smoother operation due to the higher quality bearings. They also have better mud-shedding capabilities, which can be a significant advantage for off-road riding.
Weight of Shimano M520 vs M540 Weight
The M520 is heavier than the M540. A pair of M520 pedals weigh around 0.82 lbs., while the M540 pedals come in at around 0.78 lbs. While the difference might seem small, for competitive cyclists, every gram counts.
Shimano M520 vs M540 Pedal Price
As the entry-level model, the M520 is typically cheaper than the M540. However, the M540's higher price is generally considered worth it for the increased performance and lower weight.
This was all for the Shimano m520 vs m540 pedals review. Down below are some more questions answered that you can check out. You may also want to know about waterproof MTB shoes for flat pedals.
FAQs about Shimano m540 and m520
What is better Shimano M540 or Shimano M520?
If you look at the mechanisms of m540 vs m520, you'll find no difference. Both the pedals perform very well. However, the m540 lasts longer and spins relatively smoothly on the spindle. Besides, the m540 pedals have a nicer float and are trouble-free.
Can I wear Shimano M520 for downhill biking?
Yes, you can. In fact, downhill racers these days prefer the clipless pedals of Shimano instead of flat pedals. The reason bikers prefer clipless pedals is that they enhance pedaling efficiency and thus help riders to achieve more speed. Similarly, XC and enduro racers also prefer using clipless pedals for their bikes.
Which pedal from Shimano is better for adjusting the feet properly?
Both m520 and m540 offer perfect adjustment of the feet as they are double-sided. So, it depends on you to decide which one you are comfortable with.
You may also want to know how to transition from balance bike to pedal bike
Final Thoughts about Shimano M520 vs M540
In summary, this comparison between the PD M520 and PD M540 pedals reveals that both models are double-sided and offer excellent performance. While the M520 pedals are more affordable than the M540, there are no shortcomings with the M520 pedals. However, if you have a generous budget, opting for the M540 pedals will enhance your riding experience to its fullest potential.
You May Also Be Interested To Read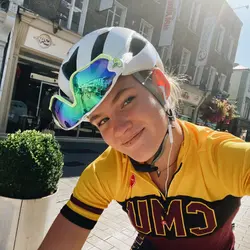 Hi, This is Catharine Pendrel, a professional cyclist and founder of Bikeoure. I have been riding bikes for more than 23 years and writing about cycling and other outdoor magazines for about 5 years. Mountain biking has been my passion ever since I first came across it a decade ago. I participated in various MTB tournaments and won numerous mountain trail races.
I started Bikeoure to share my expertise and cycling experience with cyclists all around the world to make them addicted to cycling. My cycling and solo traveling expertise help new cyclists find the best and latest gear in the market for their cycling adventures.