When it comes to securing the wheels on your bicycle, two common options are the thru axle and quick release. Both serve the purpose of attaching the wheels to the bike frame, but they differ significantly in terms of design, functionality, and performance. Understanding the distinctions between these two axle systems is essential for cyclists seeking to make informed decisions about their bikes.
In this article, we explore the characteristics of thru axle and quick release, highlighting their advantages and drawbacks. By delving into the intricacies of these wheel attachment mechanisms, you'll gain valuable insights to help you choose the most suitable option for your cycling needs, ensuring optimal safety, stability, and convenience on the road or trail.
Quick Release vs Thru Axle
So, this article will provide you a comparison of quick release vs thru axle to enable you to make an informed decision regarding both in case you ever plan to switch between the two on you bike. Before discussing the pros and cons of quick release axle and thru axle, let's briefly look at the difference between both axles.
What is a Quick Release Axle?
The axle of a quick release wheel is hollow and has a 5mm or 9mm diameter. The diameters have a slight difference in the front (9mm) and back (10mm). A quick release axle system has a thin metal skewer running through the hubs.
On one side of the skewer is an acorn nut to hold it in place and on the other side, a quick release cam lever. Also, the hub has two small springs on each side. It is more common for rim brake road bikes. On the other hand, if we look at quick release vs bolt-on, both work the same except for the fact that bolt-on skewers tighten with a bolt rather than a cam lever.
What is a Thru Axle?
Thru Axle has holes instead of slots and secures the hubs between the dropouts in the frame and fork. A thru axle is threaded on one side and is a thick and solid pin. Usually, the diameter of a front thru axle is about 15mm, and the rear thru axle is 12mm.
A thru axle bolts the wheels to the frame and fork. Mostly thru axles come with a built lever that allows you to remove the wheels without tools. But, a thru axle without lever is also available that gives your bike more of a neat look. However, you'll have to carry tools in case there is a need for wheel removal.
Moving on, let's discuss the pros and cons of quick release vs thru axle.
Benefits and Drawbacks of Quick Release Axle
Quick release axle have become increasingly popular, offering both benefits and drawbacks worth considering. So, keep reading to know the advantage and disadvantages of quick release axle in detail.
Advantages of Quick Release Axle
Following are some of the major advantages of quick release axle for bikes.
1. A quick release axle is affordable and its new set can cost you about $10. The difference in price makes them more common in bikes.
2. Since quick release axles are around for more than 80 years, millions of bikes have them. Therefore, in case of a broken or bent axle, you can find a new one wherever you are cycling, even if it's in a small village. Unfortunately, finding the parts of a thru axle is not so easy.
3. A quick release axle weighs about 20 grams, so it is lightweight compared to a thru axle. You can save about 60-100 grams if you use quick release axles instead of thru axles.
4. You can remove a wheel with ease if you have a quick release axle. This would require you to pull the quick-release lever followed by lifting the dropouts off the wheel. So, within seconds, the wheels will come off. Besides, there is no such thing as losing the quick-release skewer because it stays in the hub. This is great for racing where a biker has less time to change the wheels.
5. Quick release axles have been in use for the past 80 years, so this technology is affordable, simple, reliable, and durable. Therefore, most bike riders are comfortable with using quick release axle and do not prefer switching to thru axles.
Disadvantages of Quick Release Axle
1. If we look at quick release vs thru axle MTB, a quick release axle can easily bend or break when the bike takes a jump or a drop. Since quick release axles are skinnier, putting stress can bend or break them. If the axle brakes, the wheel can either lodge in the fork or come out, causing you to crash.
2. A quick release axle is more dangerous because if it loosens over time or you made some mistake in tightening it, it will cause the u-shaped dropout to lift off the axle. So, this can lead to an accident.
3. A bike's handling gets difficult with a quick release as the fork arms are not connected firmly. As a result, the front of the bike has not much structural support which in turn affects the handling and tracking of the bike.
You may also want to know how do bike barrel adjusters work
Benefits and Drawbacks of Thru Axle
Thru axle have gained popularity in the cycling world for their improved stiffness and security, but they also come with their own set of benefits and drawbacks. Let's have a look at advantages and disadvantages of thru axle.
Advantages of Thru Axle
1. Thru axles are a safer option as compared to quick release axles as they are thicker and stronger. They are safe because the front wheel does not come out of the dropouts even when you are moving.
Also, the presence of holes prevents the dropouts from lifting the axles vertically. Besides, you'll see the dropout surrounding the axle, and thru axle screws into the dropout, resulting in a more secure connection.
2. Even if you apply heavy stress on thru axles, they won't bend or break. This is particularly essential when you are going downhill.
When you land after a jump or drop and you have a thin quick release axle, it is more likely to bend and break. The tensile strength of thru axles is higher, meaning they do not break under stress.
3. After applying the front hydraulic disc brake, the fork will twist and flex. This is because of the mounting of the disc brake calipers and rotors on only one side of the wheel. You can also read about disc brake mount types.
Torsional force generates due to braking that causes the fork to flex. With time, flexing will lead to fork fatigue and ultimately failure. Now, thru axles bolt the fork legs together, resulting in a more resistant fork to torsion forces.
4. Since thru axles bolt both fork arms together, this results in a bike having a structurally strong front end. There is a reduction in fork flexing and torsional forces, allowing you to steer precisely and accurately.
A stiffer front end makes the front wheel track better when cornering. Overall handling of the bike improves with thru axles. Also read about chaistay of a bike.
Disadvantages of Thru Axle
1. Thru axles are a relatively new technology which makes them expensive compared to a quick-release bike axle. They can cost about $30-$60 each. The frames and forks of the thru-axle are also more costly than the ones designed for quick-release axles.
2. It takes more time to remove a wheel with a thru axle. You will not only have to unscrew the axle but also remove it completely from the bike. Besides, you can lose the axle after removing it as it does not stay in the hub.
3. With thru axles come compatibility issues as some bike racks and work stands cannot fit a thru axle. This is because most racks secure a bike by slotting the front quick-release dropout in the rack. However, for some models, you can get a quick release to thru adapter and that would do the job.
You may also be looking for a guide about flat mount vs post mount disc brakes
FAQs of Quick Release and Thru Axle
Which is better thru axle or quick release?
Although it is totally up to you to decide which one works best for you, cyclists prefer thru axle over quick release as it is safer. The increased safety of a thru axle is due to the front wheel that has no chance of coming out of the dropouts when you are moving. Since a thru axle has holes rather than u-shaped slots, the dropouts cannot come out of the axle vertically.
Can you use a quick release to thru axle?
You cannot convert a quick-release to a thru axle because a thru axle does not use dropouts. There are holes instead of slots. If you plan to switch, you have to buy a new thru axle frame and fork.
Can you use a thru axle on a quick release hub?
Yes, you can. By buying an adapter, you can use a thru axle wheel on a quick-release hub. You'll have to slide the adapter into the hub of the thru axle, then put the quick-release skewer into it and that's all.
What is the benefit of thru axle?
A thru axle places the wheel more accurately and thus increases the wheel-frame rigidity. Also, there is no risk of the wheel coming loose which can happen in case of quick-release dropouts.
Concluding Thru Axle vs Quick Release Comparison
By now you know that both the axles have unique characteristics with some drawbacks. So, it is up to you to keep on using the type of axle you have or switch to the one you prefer. But, know that the need for a thru axle is there because a quick release axle does not guarantee safety to the biker.
Whereas thru axle has brought about improvement in your safety and decreased the chances of injuries. At the moment, thru axle can cost you more, but with the increase in its usage, it will become easily available at a cheaper rate.
You May Also Be Interested To Read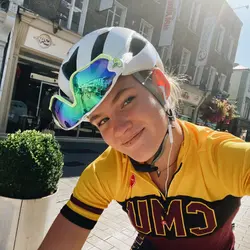 Hi, This is Catharine Pendrel, a professional cyclist and founder of Bikeoure. I have been riding bikes for more than 23 years and writing about cycling and other outdoor magazines for about 5 years. Mountain biking has been my passion ever since I first came across it a decade ago. I participated in various MTB tournaments and won numerous mountain trail races.
I started Bikeoure to share my expertise and cycling experience with cyclists all around the world to make them addicted to cycling. My cycling and solo traveling expertise help new cyclists find the best and latest gear in the market for their cycling adventures.