Are you a first-time parent who is confused while purchasing a toddler tricycle? Multiple tricycles for kids are available in the market which make it difficult for you to choose. For your ease, I have reviewed the best tricycles with push handle and canopy.
Tricycles with push handles are safe for toddlers because they give you full control. You can push the tricycle while your kid sits safely at the front, secured with a harness. So, let's deep dive into the review of each tricycle.
Review of Best Toddler Tricycles With Push Handle
I have decided to write about the best toddler tricycle with push handles to help you out. The information below is written after asking my friends who have used them for their kids.
Scroll down to read the details if you plan on investing in a toddler tricycle. I am sure you will find a good option that ticks all the boxes of safety and comfort.
1. EOOWAY Toddler Tricycle with Push Handle
Best Overall
Features
High Quality 600D Oxford Fabric Material
Metal Frame
Adjustable Seat
3-Point Safety Belt
Removable Safety Bar
EOOWAY Baby Tricycle is the first on my list of best toddler tricycles with push handle because of its outstanding features. It stands out because you can use it for toddlers age 10 months to 6 years. You can use it for 5 to 6 years as your child won't grow out of it.
The EOOWAY Toddler Tricycle 6 in 1 design makes it beneficial for parents to handle tricycle. A safety harness is present at three points so your toddler stays comfortable and safe.
People are impressed with the double brakes that the EOOWAY tricycle comes with. These brakes ensure safety and trouble-free rides for kids. As a parent, these features are necessary in a toddler tricycle to save them from unexpected falls.
EOOWAY Baby Tricycle is also equipped with removable canopy which can protect your kid from sunlight and can be removed when the weather is pleasant. The EOOWAY Baby Tricycle is manufactured with alloy steel and weighs only 24 pounds.
What I like the most about EOOWAY Tricycle is that it comes with an adjustable seat that does not compromise comfort. The seat can be tilted at different angles, and you can even turn it back to keep an eye on the sleeping baby. Hence this tricycle is a great option as it does not compromise comfort and safety.
What I liked
6 in 1 tricycle
Skin-friendly/comfortable seat
Removable canopy for sun protection
What I didn't like
No color options are available
Concluding EOOWAY Toddler Tricycle Review
EOOWAY Baby Tricycle can be a good pick for parents who do not compromise their toddler's comfort and safety. This tricycle has a removable canopy that can be used according to the weather outside. A comfortable seat is present that can be revered to keep an eye on the baby. The only downside of this tricycle with a push handle is that it has no color options.
2. GOMO Kids Tricycle With Push Handle
Editor's Choice
Features
Easy to assemble
Strong and durable aluminum construction
Secure padded seat
Puncture proof PU wheels
Good for both indoor and outdoor use
Lastly, I have the GOMO Kids Tricycle on my list of the best toddler tricycles with push handles. This is placed at the end because it lacks a canopy and a harness. Parents conscious of their toddler's safety might not consider this an option. Although you get three funky colors, the seat is made of plastic.
One of my favorite features of this tricycle is that the push handle has a free-wheel design. This won't confuse the toddler if he wants to pedal while you push the tricycle. The basket at the front can be used for keeping all the stuff. It comes with a one-year warranty and has a strong aluminum frame.
The GOMO Kids Tricycles with Push Handle come with puncture-proof wheels. These won't damage the floor and help toddlers ride freely. They can hold the handlebars as they come with a good grip. Hence you can get this toddler tricycle if you are low on a budget and need a good ride for your kid.
What I liked
Available in three funky colors present
Comes with a warranty
Free-wheel push handle
What I didn't like
Lacks canopy and safety harness
Concluding GOMO Kids Tricycle Review
The GOMO Kids Tricycles with Push Handle is affordable and appropriate for every parent searching for a ride. It comes with a warranty and is made with alloy. The push handle is a free-wheel design, so you can push the tricycle simultaneously when your kid is riding it. However, it lacks a canopy and safety harness.
FAQs about Kids Tricycles
What age should a toddler get a tricycle?
A toddler should get a tricycle around the age of 3. However, if you plan on buying a tricycle with a push handle, you can buy it when your child turns 1.
What to look for when buying a tricycle?
As a parent, you should always look for safety and comfort when buying a tricycle. This is considered an investment as it works for years.
What age are push trikes for?
The push trikes are for toddlers ranging between 2 to 5 years of age. They can pedal or sit back while the parents push them.
Concluding Toddler Push Handle Trikes Review
A brief article with 3 toddler tricycles with push handles is given so you can choose the best one for your child. These come with great features that allow your toddler to stay safe and enjoy their ride. The two best toddler tricycles with push handle are following:
BABY JOY Tricycle For Toddlers is the best because it has high quality and an adjustable push handle.
EOOWAY Baby Tricycle is the best because it has a canopy, and the seat can be reversed.
Hence these are the best tricycles that can be bought for your toddlers. You should consider them an investment as they are appropriate for toddlers ranging between 1 to 6 years of age. The push handles can be adjusted at different heights, and the wheels are slip resistant.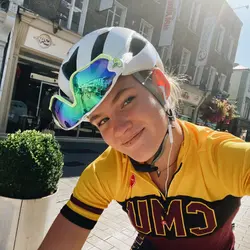 Hi, This is Catharine Pendrel, a professional cyclist and founder of Bikeoure. I have been riding bikes for more than 23 years and writing about cycling and other outdoor magazines for about 5 years. Mountain biking has been my passion ever since I first came across it a decade ago. I participated in various MTB tournaments and won numerous mountain trail races.
I started Bikeoure to share my expertise and cycling experience with cyclists all around the world to make them addicted to cycling. My cycling and solo traveling expertise help new cyclists find the best and latest gear in the market for their cycling adventures.